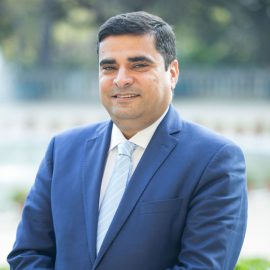 Business Development and Employment
Sudqi Al-Omoush
Deputy Secretary General
"The development of the private sector, the fostering of job creation, the fair distribution of economic benefits as well as the strengthening of regional cooperation and integration are key factors contributing to national economic development. Therefore a concrete action, tangible results on the ground, projects with a real impact on the citizens' wellbeing are paramount. For all these reasons, the UfM Secretariat through its Business Development Division is positioning itself as a partner of choice; a trusted adviser and a credible knowledge broker."
Sudqi Al-Omoush, from Jordan, was appointed Deputy Secretary General for Business Development and Employment at the UfM in 2016. Since 2013 he was seconded by Jordan's Co-Presidency to the UfM Secretariat and served as Policy and Diplomatic Adviser.
He has been Minister Plenipotentiary in the Ministry of Foreign Affairs and Expatriates of the Hashemite Kingdom of Jordan.
Mr. Al-Omoush worked for the diplomatic corps of the Ministry of Foreign Affairs and Expatriates of Jordan for 20 years in missions to Malaysia, Romania and Egypt. His last diplomatic post was Deputy Head of Jordan's Permanent Mission to the Arab League and DHM at the Embassy of The Hashemite Kingdom of Jordan to Cairo.
In 2012 Sudqi Al-Omoush was the Deputy Director of the European Affairs Department, Head of the UfM Unit and Deputy Chair of Jordan's UfM Co-Presidency.
He graduated from the University of Jordan in Amman with a Bachelor's degree majoring in Political Science and International Relations and a minor in Economics. He also earned a Masters in Diplomacy from Lancaster University in the UK and speaks English and Arabic.
Team
Fawzi Dib
Mohamed El Razzaz
Hamed El Etreby
Contact