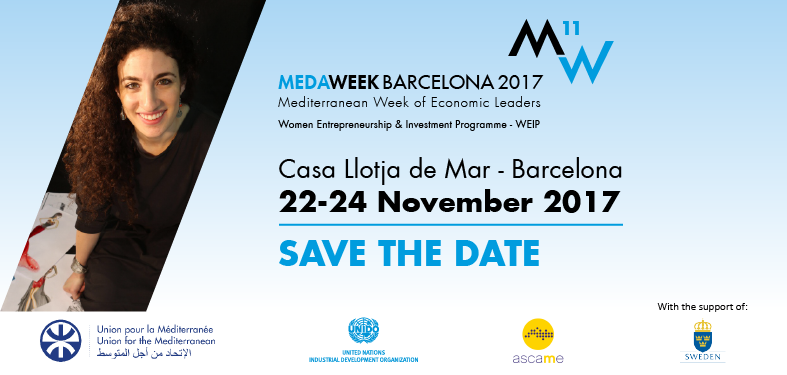 22-24 November 2017, Barcelona. -The Union for the Mediterranean (UfM) co-organise, together with the United Nations Industrial Development Organization  (UNIDO) and the Association of the Mediterranean Chambers of Commerce and Industry (ASCAME) the "Women and Entrepreneurship & Investment program 2017" within the framework of the, a leading business and investment event.
The event will take place from Wednesday, 22 November to Friday, 24 November 2017 at Casa Llotja de Mar, Barcelona, Spain.
Over 1000 Economic Leaders are expected to attend, including investors, representatives from the business community, banks, governments, as well as regional and multilateral organizations from both shores of the Mediterranean basin.
In this edition, UfM, UNIDO and ASCAME, through dedicated forums, B2B meetings and study tours, will promote and facilitate the dialogue between women entrepreneurs from both sides of the Mediterranean basin, with the objective to strengthen cooperation and international partnership and create new business opportunities.
This program is entirely dedicated to women entrepreneurship in the Mediterranean and will offer participants a number of networking and business advantages, including:
Free access to the entire MEDAWEEK
B2B Matchmaking through online platform
Access to Market: Special Session with Buyers
Women Entrepreneurship Technical Tour
This Forum is a part of the UfMS overall strategy in promoting women's economic participation and women entrepreneurship in the Euro-Mediterranean. This strategy is also illustrated by the UfM Flagship Initiative Med4Job as well as several UfM regional projects: