Governance & Financing for the Mediterranean Water Sector
"Governance & Financing for the Mediterranean Water Sector" aims to deliver a set of country analysis and a regional action plan to improve the public governance and attract investments to the water sector of the Mediterranean region.
"Governance & Financing for the Mediterranean Water sector" is a joint undertaking of the Global Water Partnership-Mediterranean (GWP-Med) and the Organisation for Economic Cooperation and Development (OECD).
The core objective of the project is to diagnose key governance and capacity building bottlenecks to mobilizing financing through public private partnerships (PPP) for the Mediterranean water sector, and to support the development of consensual action plans based on international good practices. In particular, the project will focus on assessing the opportunities and institutional and regulatory challenges arising from public-private partnerships (PPPs) as a tool in the hands of policy makers to managing water resources and financing services in an effective, sustainable and affordable manner.
The project involves work at national and regional level over three years (2013-2015), and draws on established OECD methodology and previous work undertaken by GWP-Med and the OECD in Egypt and Lebanon.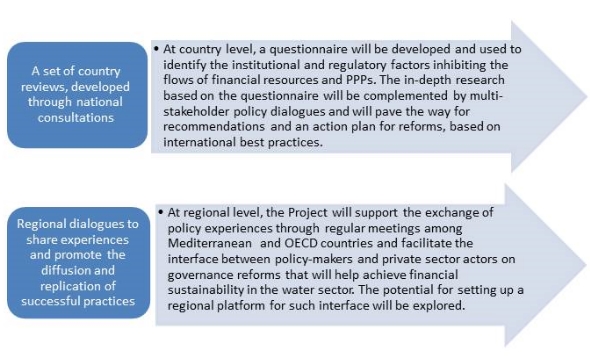 Seven countries are participating in the first phase of this project: Albania, Egypt, Jordan, Lebanon, Morocco, Tunisia and Palestine.
About the promoter and partner institutions
The Global Water Partnership – Mediterranean (GWP-Med) is a regional partnership of the Global Water Partnership (GWP). It is a platform bringing together organisations working regularly on water issues in the Mediterranean region. It aims at promoting knowledge on Integrated Water Resource Management (IWRM) through the exchange of experiences, dialogue, and capacity-building.
The Organization for Economic Co-operation and Development (OECD) is an intergovernmental organization promoting policies that will improve the economic and social well-being of people around the world. The OECD provides a forum in which governments can work together to share experiences and seek solutions to common problems.