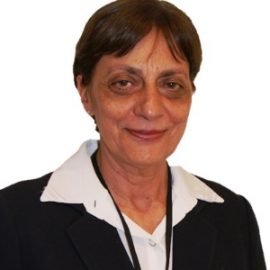 Legal & Administration Department
Anny Shakalli
Director Legal & Administration Department
Anny Shakalli was seconded to the Secretariat of the Union for the Mediterranean by the Government of the Republic of Cyprus in February 2015, following a career of more than three decades in senior management posts in the Cyprus Civil Service.
Full bio
After her appointment as Administrative Officer in the Department of Merchant Shipping of the Ministry of Communications and Works in November 1977, the two major phases of her service were in the Ministry of Justice and Public Order, from 1985 to 2002, as Head of the International Legal and Judicial Co-operation Unit, and in the Ministry of Interior, from 2002 to 2015, as Director of the Civil Registry and Migration Department.
She comes from Kyrenia, Cyprus and studied Law and Politics at the University of Southampton in the United Kingdom, from which she graduated in June 1977.
Team
Omar Rakib
Robert Rubió
Javier Izquierdo
Pablo Barreiro
Sonia Díaz
Mauricio Faenza
David Llobet
Barbara Martin-Aceña
Francesc Colomer
Carles Grau
Amine Azzaoui
Inès Zguidane
Khaled El Kafoury
Cecilia Espinoza
Andreea Mateica
Contact