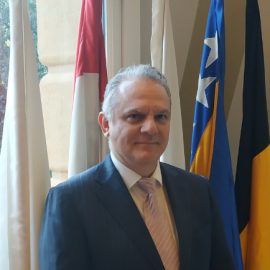 Legal & Administration Department
Evagoras Vryonides
Director of the Legal and Administration Department
Full bio
Evagoras Vryonides is a citizen of the Republic of Cyprus. He holds an MBA Degree in Management from the Fairleigh Dickinson University of the United States.
Prior to his appointment at the UfM Secretariat by the Government of the Republic of Cyprus, he was the Head of the Schengen Department at the Ministry of Foreign Affairs, handling the dossier of the Multiannual Financial Framework of the European Union. He was also responsible for Visa Policy issues and for bilateral agreements of consular cooperation.
Prior to this, he held the positions of the Ambassador of Cyprus to Mexico (2013 – 2017) and Ambassador of Cyprus to Ukraine (2009 – 2013). He also served at various positions in diplomatic and consular postings in Canada and Portugal.
Team
Omar Rakib
Javier Izquierdo
Sonia Díaz
Mauricio Faenza
David Llobet
Barbara Martin-Aceña
Carles Grau
Inès Zguidane
Khaled El Kafoury
Cecilia Espinoza
Andreea Mateica
José Nadal Olivares
Saïd Kajji
Alexander Kutt
Contact