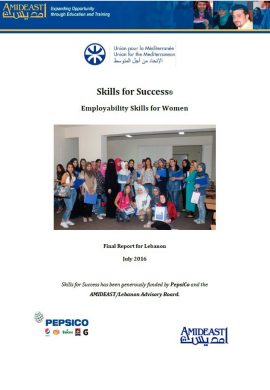 Skills for success – Final report for Lebanon
High unemployment rates have persisted in the Middle East and North Africa for decades, averaging around 12% for non-oil exporting countries. Youth aged 15-25 constitute between 40% and 60% of the region's unemployed population. In fact, the youth unemployment rate in the Middle East and North Africa is among the highest of all world regions, averaging around 25% and reaching as high as 32%.1 The problem is most pronounced for young women, who have the greatest difficulty entering the formal labor force and retaining their jobs through difficult economic times; in the Middle East and North Africa, the unemployment rate for female youth is nearly double that of male youth—the highest such gender gap in the world.
To address this widespread problem, AMIDEAST developed the comprehensive Skills for Success® – Employability Skills for Women program to provide young Arab women who have completed secondary school with the knowledge and skills they need to compete successfully for entry level jobs in the formal sector. By focusing on the development of essential, transferable job skills such as English language proficiency, problem solving, critical thinking, and computer skills, Skills for Success seeks to overcome the skills gap that hampers the job search efforts of these women and to contribute to their successful job placement and effective participation in today's global workforce.
Skills for Success is endorsed by the Union for the Mediterranean (UfM), made up of 43 member states, as part of its efforts to improve the socio-economic situation of women in the Euro-Mediterranean region. The project was officially launched at UfM's headquarters in Barcelona during a conference titled Women's Socio-Economic Empowerment: Projects for Progress (March 2014), at which over 200 representatives from European and MENA governments, international organizations, development agencies, and the private sector were present.
Through the UfM's endorsement, Skills for Success was implemented by AMIDEAST in 2014- 2015 in Jordan and Morocco through funding from the Flemish Department of Foreign Affairs and the Norwegian Ministry of Foreign Affairs. It was then launched in Lebanon in 2015 through funding from PepsiCo and the AMIDEAST Lebanon Advisory Board. The UfM has also included Egypt and Tunisia in its endorsement, for a total of 450 women (90 in each country) to be impacted by the program in this first phase.
Author: AMIDEAST – Union for the Mediterranean
July 2016
…Other publications you may like