The Union for the Mediterranean (UfM) was created by 43 Euro-Mediterranean Heads of State and Government on 13 July 2008 at the Paris Summit for the Mediterranean. It was launched as a continuation of the Euro-Mediterranean Partnership (Euro-Med), also known as the Barcelona Process, which was established in 1995.
The Secretariat of the Union for the Mediterranean was created by a decision of the UfM Heads of State and Government on 4 November 2008 in Marseille. The UfM Secretariat's Statutes were adopted on 3 March 2010 by a decision of the Senior Officials of the UfM Member States. A headquarters agreement was signed between the UfM and the Government of Spain on 4 May 2010, granting the Secretariat the privileges and immunities of an international organisation under Spanish law.
The UfM constitutes a framework for political, economic and social relations between the European Union and the Southern and Eastern Mediterranean countries and is inspired by the goals set out in the Barcelona Declaration, namely working towards the creation of an area of peace, stability, security and shared economic prosperity, as well as full respect for democratic principles, human rights and fundamental freedoms and promotion of understanding between cultures and civilizations in the Euro-Mediterranean region.
MILESTONES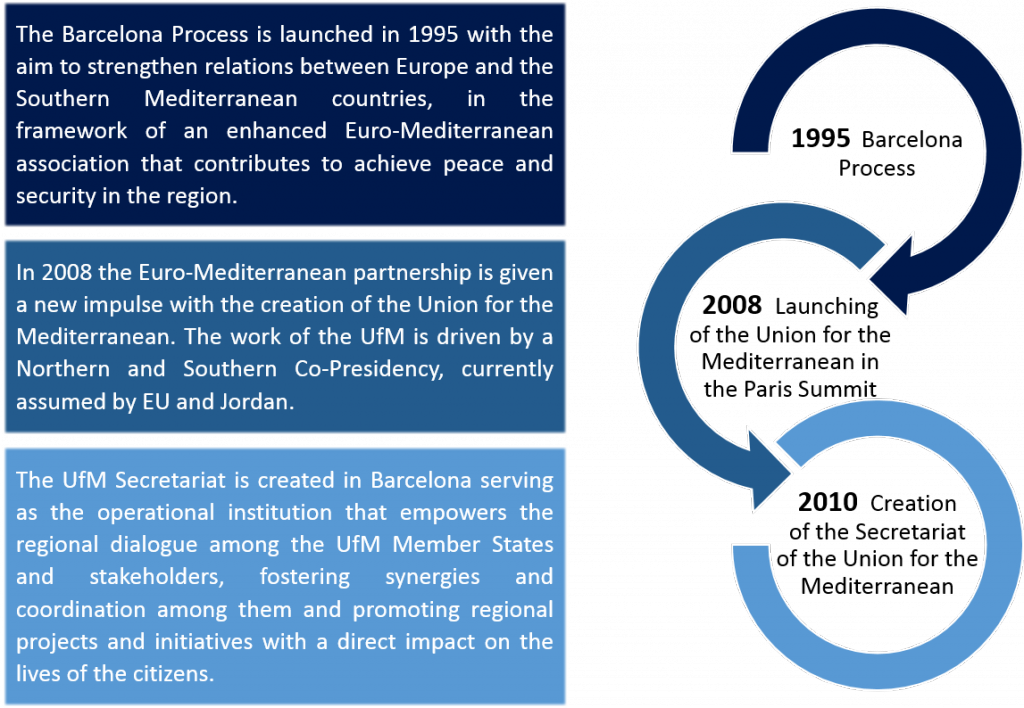 SECRETARY GENERALS OF THE UNION FOR THE MEDITERRANEAN
Ahmad Masa'deh              March 2010 - February 2011
Youssef Amrani                July 2011 - January 2012
Fathallah Sijilmassi          March 2012 - present