Gender and climate change: need for international, national and local action
Gender inequality is not only a pressing moral and social issue but also an economic challenge and a critical barrier in the implementation of climate change and sustainability solutions.
Climate change affects the most vulnerable, who are often women and the children they care for. But we also know that the full and direct involvement of women increases the palette of solutions and options for successful implementation of climate action across the board.
Women need to be able to unfold their full potential, irrespective of their place in society, to cope with change, as well as to be active agents of change. This is an issue that I am personally committed to and I am grateful that more and more opportunities are opening up to respond to this urgent need.
[ufm_quote]"Climate change affects the most vulnerable, who are often women and the children they care for. But we also know that the full and direct involvement of women increases the palette of solutions and options for successful implementation of climate action across the board.."[/ufm_quote]
One such opportunity is the International Gender Champions Network, a network of senior leaders that works to advance gender equality in the executive management of their institutions and in their programmatic work through concrete and measurable commitments. In June of this year, I became an International Gender Champion under the International Gender Champions Network.
As one of my commitments, I signed the panel parity pledge, meaning that I will from now on request organizers of any event at which I am speaking to ensure gender balance among the panelists.
I want to ensure that when we talk about a topic as significant as climate change, women who are working in this field are provided an equal opportunity to share their knowledge and perspectives. This both enriches panel discussions and provides profile-building visibility for female experts and leaders.
At the same time, I launched the Bonn-Berlin chapter of the network and aim to invite senior leaders from government, international organizations, civil and private sectors based in Bonn and Berlin to join the network as gender champions. Beyond the Bonn-Berlin chapter, I encourage executive management across the world to become active gender champions, including as members of the International Gender Champions Network in their own location. Another opportunity to address gender inequality is of course through policy. In terms of policy, we have come a long way. Just 10 years ago, the linkages between gender equality and climate change were not often recognized.
Today, we can look with pride to the Paris Climate Change Agreement, which is the first multilateral environmental agreement to include human rights language, including gender equality, the empowerment of women and intergenerational equity, in its preamble. The Sustainable Development Goals (SDGs) also prominently recognizes the need for gender equality and women's and girls' empowerment in Goal 5.
The Paris Agreement and the 2030 Agenda for Sustainable Development are intrinsically linked. Action on one is action on the other and together they provide a very clear policy framework for action on gender and the empowerment of women and girls.
Strengthening, promoting and fully integrating gender equality into all actions under the Paris Agreement, will simultaneously contribute to achieving SDG Goal 5. This is one way of boosting gender equality through policy that is open to every country that has ratified the Paris Agreement.
Of course one of the first steps in this is ensuring that national delegations to our climate change conferences include more female negotiators. In fact, Parties have set themselves goals on gender balance, as well as on increasing the participation of women in the climate change process.
Currently, Least Developed Countries (LDCs) have a direct avenue through which they can scale up efforts to increase the participation of women: the Women Delegates Fund. Not only does the fund increase female participation in delegations from LDCs, it also provides negotiating skills training ahead of climate change conferences.
The Paris Agreement also reaffirms the need for gender-responsive climate policy development in the context of adaptation as well as capacitybuilding. These provisions are already bearing fruit as Parties have decided to scale up their genderresponsive climate policy through the renewed Lima work programme on gender and the gender action plan, which will be developed at COP 23 in Bonn.
The gender action plan provides an opportunity to enhance coherence and the integration of gender considerations across all UNFCCC workstreams by providing the 'how to' for existing gender mandates. It should certainly strengthen implementation action and on-the-ground impacts of these UNFCCC decisions.
Successful implementation will require an unprecedented level of collaboration and cooperation between governments, companies, intergovernmental organizations and civil society to raise awareness, drive action and ensure that climate policy is truly gender-responsive.
This is where organizations such as the Union for the Mediterranean can play an important role in linking these different actors and providing a venue for the exchange of knowledge and experience in the region.
Yet the vulnerability of women in the context of climate change, as well as their key role in affecting solutions and implementing them can perhaps best be seen at the local level.
For example, a previous award winner under the UNFCCC's own Momentum for Change initiative illustrates the multiple benefits that can be achieved when women are involved in the design and implementation of climate solutions. 'Solar Sister' combines breakthrough clean energy technology with a deliberately woman-centered direct sales network that brings light and economic opportunity to even the most remote communities in rural Africa. Since 2010, Solar Sister has built a network of 2,000 women entrepreneurs who have brought clean energy access to over 350,000 people across Sub-Saharan Africa.
In addition, the business structure of the Solar Sister organization affirms the important role of women in leadership and decision-making: the CEO is a woman and over 50% of the board are women. The climate impacts of the project include replacing fossil fuel lamps with solar lamps which directly reduces carbon emissions. As the primary consumers of household energy, women are critical for successful adaptation of clean energy solutions. The founders of Solar Sister believed that investing in women was a prerequisite for large-scale adoption of clean energy technologies at a grassroots level.
The growth of the initiative validates this belief. The gender inclusive system approach, combined with an enterprise model led by women to bring sustainable livelihood opportunities to address energy poverty, makes the Solar Sister one model for future initiatives.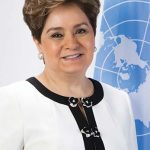 Patricia Espinosa, Executive Secretary of the United Nations Framework Convention on Climate Change
On 18 May 2016, United Nations Secretary-General Ban Ki moon appointed Patricia Espinosa of Mexico as Executive Secretary of the United Nations Framework Convention on Climate Change (UNFCCC). Ambassador of Mexico to Germany since 2012 and from 2001 to 2002, Ms. Espinosa was Minister of Foreign Affairs of Mexico from 2006 to 2012, bringing more than 30 years of experience at highest levels in international relations, specialized in climate change, global governance, sustainable development, gender equality and protection of human rights.
As Mexico's representative on multilateral bodies and international organizations, Ms. Espinosa has been engaged as leader in the global challenge to address climate change and its consequences, notably as Chair of the 16th Conference of the Parties leading to the adoption of the Cancun Agreements. Elected Chair of the Third Committee of the UN General Assembly (1996) she played a key role in the process leading to the adoption of the Beijing Platform for Action at the 4th World Conference on Women.