Islam and women: the priorities of a reformist approach
Nowadays, the issue of women, in general, and of Muslim women in particular, is at the centre of all debates on modernity, universal values and the "living together" of globalised contemporary societies. And in that context, of loco-regional initiatives, following the example of the Union for the Mediterranean, these debates are essential in order to overcome the things that go unsaid, the misunderstandings and the stereotypes on both sides, and to establish a genuine space for sincere and constructive dialogue beyond geographical and cultural boundaries.
Indeed, and in a very exaggerated way, it can be noted that the issue of Islamic women continues to be taken hostage between a largely mediatised and trivialised Islamophobia, and a political-cultural patriarchy which is still significant within Muslim societies and communities. Muslim women are therefore still the target of recurrent controversial debates, within their societies and elsewhere, and are generally exploited by policies which are most often made without their input, or even without their knowledge.
Despite the difficulty nowadays of making a distinction between an exploited Islam on all sides, and a xenophobic ideology which is increasingly evident, it turns out that another route can indeed be taken. A route far from all these extreme ideologies, whether they be those of geopolitics, ultraliberal consumerism, globalised misogyny embodied by the resurgence of political populisms on all sides, or that of the horror of religious extremism in the name of Islam errant of its spiritual ethics.
Islam allows polygamy, imposes the submission of women to men, veils women, refuses them the right to inherit equally alongside men, allows women to be repudiated and grants all the rights to men. Are all these questions, mostly accepted as fundamentals of the Sacred right in the Muslim imagination, structural to Islam as spiritual revelation? Are they transcribed in the Koran text itself or is it a matter of human interpretation of the text, reproduced in theological compilations throughout history?
To respond to these questions, nowadays it is essential to deconstruct beforehand the traditional approach still in place today in order to initiate a reformist interpretation to provide us with new keys to interpreting this issue. It is a question of prima facie making the distinction between spiritual Islam, that of the Text as the revealed source, and that of institutional Islam of the ulama, exegetes, theologists of different legal schools and ideological trends which have historically structured Islamic thought.
It is therefore essential to distinguish between these different categories of interpretations in order to understand what the spiritual Message really says, what it does not say, but also and especially what it has been believed to say for centuries! That is how, as can be demonstrated, supporting arguments, of which the majority are classic medieval interpretations, have been the product of their social and cultural environment and are constructed on the fringes of society, and sometimes going against the many freedoms granted by the scriptural texts.
Indeed, it turns out that on this issue of women, there is a resulting difference between what the spiritual message of Islam preaches and the majority of interpretative readings, notably those of the Muslim right or Fîqh which are mostly discriminatory and have become sacred recitals (taqlîd) over time and with blind imitation.
By giving the priority back to the textual sources, and notably to the ethical dimension of the spiritual Message, it is shown that the eternal religious taboos that come out at each opportunity simply do not exist in the Text itself, but in the long historical tragedy of an interpretation of friars who have remained hostage of their own socio-political excesses.
This new reformist interpretation also allows us to highlight four essential dimensions within the Islamic frame of reference that the mainly traditional interpretation has never taken into account. These are: the spiritual ethical dimension which constitutes the essential elements of the Text, the humanist dimension symbolised by the concept of the human being (însan), a conceptual and normative equality dimension brought to light through more than twenty verses and a final socio-cyclical dimension, which must be put back into the historical context of the era.
The new reformist approach has made it possible to demonstrate that, out of 6232 verses, there are more or less 6 verses which have made Islam's reputation, such as: polygamy, veil, repudiation, legal supervision of men over women, testimony and half of the inheritance. However, it is still true that these verses, removed of the ethical framework of the overall vision of the Koran and subjected to literal, or even discriminatory, readings, have largely participated in maintaining a pejorative vision of a religion which oppresses women and where the notion of equality is virtually non-existent.
Indeed, Muslim lawyers have marginalised universal ethics and the base values of scriptural texts and have interpreted these few cyclical verses in light of their own patriarchal society and mentality of the era where notions of justice and equality did not have the meaning that they have today.
It is therefore through the base values of the spiritual message, such as human liberation, equality of all human beings, freedom of belief, the imperatives of justice, knowledge and reason, and respect of human diversity, that it must be known how to reinterpret nowadays the topic of women and understand it as a topic at the heart of the spiritual requirement for the liberation of human beings. This new reformist approach is still certainly in minority within the Muslim world, but it is still clear today that we are witnessing the emergence of a genuine Muslim female awareness within Arab Muslim societies, but also within communities and Muslim minorities living in the West.
In fact, a true academic and theological research work is in the process of taking shape and clearly stipulates that the discourse on gender equality is completely valid from within Islam and that the scriptural sources of Islam do not constitute in any case an obstacle to the establishment of equal rights between men and women.
The reform of Islamic thought and tradition is an ethical and moral obligation and not because they are imposing it on us. It is in the name of the very principles of Islam, errant and usurped by the interpretation of political ideology, that the issue of correcting this reversal of values embodied in centuries of decadence must be addressed.
Muslim men and women must therefore be offered new working frameworks of a religion transformed into real ethics, which may be experienced not only as an identity fixed with resistance and rejection of others, but also as a profound liberating spirituality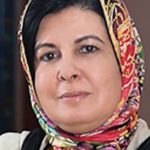 Asma Lamrabet, Director of the Center for Women's Studies in Islam in the Rabita Mohammadia des Olémas, Morocco
Asma Lamrabet is a biologist at the Avicennes Public Hospital in Rabat. She has been the Director of the Center for Women's Studies in Islam in the Rabita Mohammadia des Oulémas du Maroc since 2008. She is a member of the International Academic Committee of the Musawah Network, a member of the Fatéma Mernissi Chair at Mohammed V University in Rabat and a member of the Moroccan National Committee on Education and Culture. She is also the author of numerous articles, essays and books such as: "Le féminisme islamique, un movement en expansion qui rejette le modèle occidental d'émancipation" or "Croyantes et feministes : un autre regard sur les religions ».