Agadir SME Programme: Fostering SME competitiveness and trade
Economic Development and Employment
Context
The Agadir Declaration, signed on 25 February 2004, established a free trade zone (FTZ) between Jordan, Egypt, Tunisia and Morocco. The FTZ was created in order to develop economic activities, support employment, increase production and improve living standards within the member states, and came into force on 27 March 2007. 
The Agadir SME Programme was designed to increase economic integration between countries of the Agadir Agreement. It also contributed to economic development and income generation through SME-led growth. Specifically, the project aimed to enhance the competitiveness of SMEs and increase their ability to supply products and to use the 'cumulation of origin' label. The concept of cumulation of origin allows products from one country in a free trade zone to be further processed in another country from that zone as if it had originated in the previous country. This boosted trade among the four countries and their exports to the EU, creating new economic dynamism.
The project encompassed elements of capacity building, policy transformation and systemic improvements that were designed to boost the ability of SMEs in Agadir Agreement countries to work together and enhance their competitiveness on international markets. The project's actions and activities aimed to develop the business ecosystem, strengthen the ability of SMEs to supply high-quality products, and enhance institutions' ability to provide effective trade support services.
Location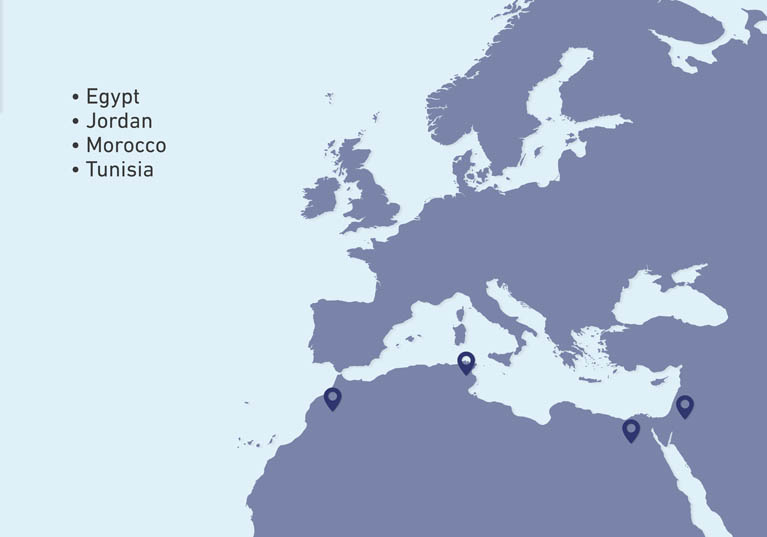 Financial contribution
€400,000 – International Trade Centre
€400,000 – Beneficiary countries
Promoter
The first promoter of the project is the Agadir Technical Unit (ATU), established in 2007 by the four Agadir countries to carry out work on practical aspects of establishing a free trade area: rules of origin, legislative approximation, custom regulations, technical requirements, etc.
The second promoter is the International Trade Centre (ITC Centre), a joint agency of the World Trade Organisation and the United Nations. The aim of the ITC is for businesses in developing countries to become more competitive in global markets, enhancing economic development and contributing to the achievement of sustainable development goals.
Direct beneficiaries: Exporting and export-ready SMEs in the Agadir countries, with priority given to female-owned enterprises to support women's economic empowerment in those countries.
Indirect beneficiaries:
Governments and public institutions such as ministries of commerce, customs administrations, and standards bodies
Trade and investment support institutions as well as financial institutions
Sectoral and professional organisations, such as the chambers of commerce and trade promotion/development agencies
Civil society and academia
The logistics industry
Key actions
Capacity building, policy transformation and systemic improvements designed to boost the abilities of SMEs in Agadir Agreement countries.
Provision of effective trade support services regarding cumulation of origin rules to enhance competitiveness on international markets.
Working with the countries to develop the business ecosystem, strengthening the ability of SMEs to supply high-quality products.
Results
Trade-related barriers reduced and cross-border procedures improved across Agadir member countries to enhance the competitiveness of SMEs.
Access to trade intelligence and market information across Agadir member countries enhanced to boost the cumulation of origin.
Strengthened ability of SMEs to use the cumulation of origin label for more efficient marketing of their products in Agadir countries and in EU markets.
Trade and investment partnerships and links established.
Innovation and quality of exportable products by Agadir SMEs improved.
Loan guarantee and financial support feasibility study completed.