CEED GROW: Growing and Scaling Small and Medium-Sized Businesses
Context and objectives
The CEED GROW project aims to enhance the leadership and entrepreneurial skills of 300 small and medium-sized businesses and female entrepreneurs. In doing so, it will reduce the human capital gap and increase the number of female SME managers, while increasing job creation and contributing to national economies in the region.
Women's involvement in the business sector is significantly lower than that of their male counterparts in the Euro-Mediterranean region. The main challenges identified are insufficient business management knowledge and difficulty obtaining bank loans and credit.
The project therefore aims to reduce the barriers faced by women by offering business and financial management training, hosting regional business-to-business(B2B) meetings, facilitating international mentoring, and inviting entrepreneurs to participate in regional networking events.
During the regional B2B meetings, the project staff work closely with companies to identify their specific needs and facilitate meetings based on these needs. This may include introducing them to strategic partners in another country, helping them gain access to new customer segments to test a new product, or setting up meetings with potential investors.
Mentors will come from the greater CEED network and will be paired with women in Albania, Morocco and Tunisia in order to give them a global perspective to tackling challenges. Finally, the project's annual conference is an opportunity for participating companies to meet other entrepreneurs and to potentially grow their businesses.
Location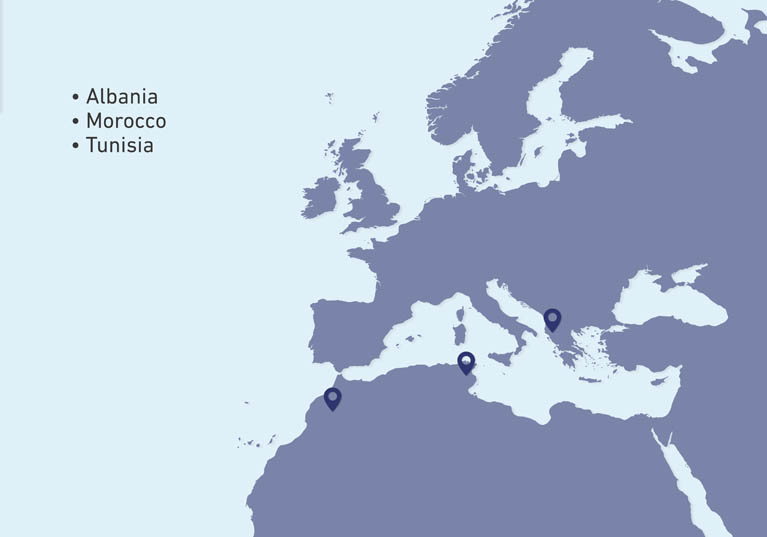 Financial contribution
€180,000 – Government of Norway
€12,000 – Participant fees
Promoter
This project is promoted by CEED Global, an American organisation with over 10 years' experience working with entrepreneurs in emerging markets, helping them to confront their business challenges and improve growth by enlisting successful entrepreneurs as mentors.
Since 2005, CEED has trained over 20,000 entrepreneurs, currently has over 3,000 active network members and has helped entrepreneurs increase revenue and job creation by, on average, 20%. It has also facilitated over 10,000 mentoring relationships, hosted more than 50 networking events and – with over 60% of entrepreneurs now doing business with other network members – has helped increase international business-to-business opportunities for small businesses.
Female entrepreneurs, as well as top and middle-level managers of 300 small and medium-sized companies.
Key actions
Providing practical business training to enhance entrepreneurial skills. Training sessions are led by experts and qualified professionals.
Providing individual mentoring from local and international business leaders who give professional business development advice and feedback based on a needs evaluation carried out beforehand.
Organising networking events to build long-term relationships among entrepreneurs so they can explore new business opportunities and connect with prospective clients, strategic partners and potential investors.
Expected results
60 training sessions provided to companies in the three countries over two years (10 training sessions per programme per country each year).
50+ networking events hosted for the beneficiaries.
Over 100 mentoring relationships forged through the project.
300 companies trained and connected to mentors and other resources in the CEED network.