Smart DESERT (Smart Development of Eco-Friendly Solutions and Economic Regional Agricultural Techniques)
Water, Environment & Blue Economy
Context and objectives
Jordan is burdened by an extreme scarcity of water and the challenges related to this have been aggravated by an influx of more refugees since the year 2011. The population increase has caused a significant additional demand for water, resulting in local water shortages and, ultimately, enormous pressures on the sewage network and wastewater treatment plants.
With an overarching goal of economic empowerment of vulnerable population (including Syrian refugees, and Palestinian refugees) in the agricultural sector, Smart DESERT is designed to achieve two key objectives: (1) increased year-round income and (2) improved work conditions, proofing the concept of sustainable agriculture.
Location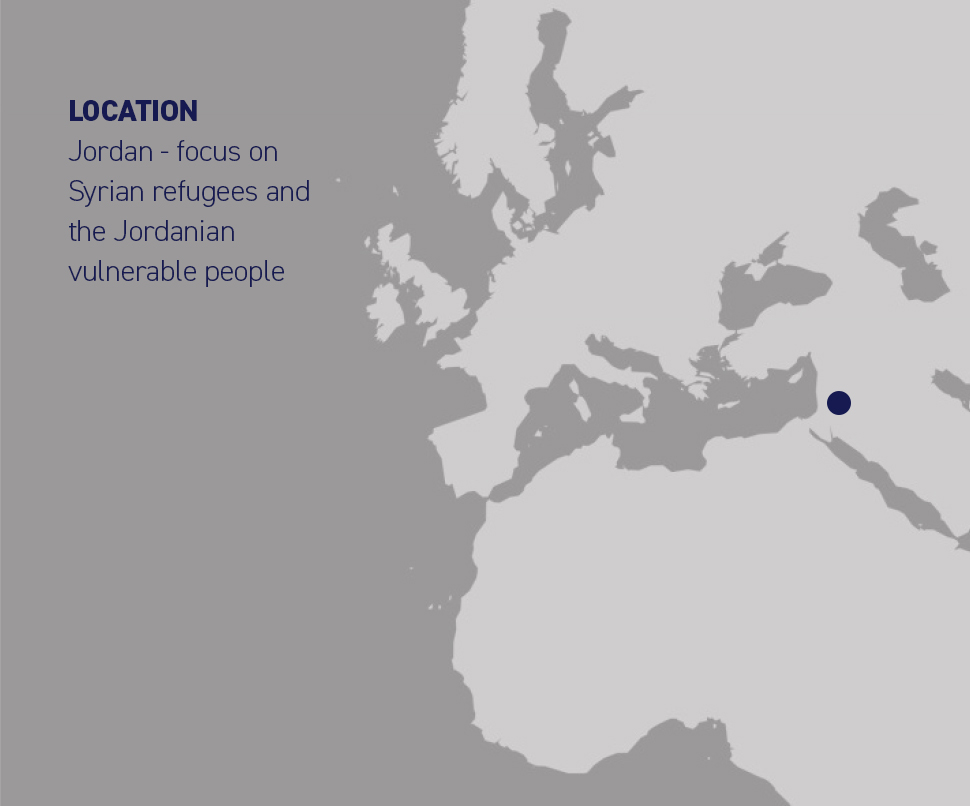 Key figures
36 months (started in 2022)
Fully funded by the Agence Française de Développement
Financial contribution
Total cost: €10,618,000 (€10 million AFD, €618,000 co-finance from all project's partners)
Promoter
International Union for Conservation of Nature (IUCN) : Since 2004, IUCN's Regional Office for West Asia (ROWA) has implemented over 38 projects in 13 countries, including Jordan, Syria, Iraq, Lebanon, and the Gulf states, addressing development challenges related to water, climate change, biodiversity, livelihoods, and coastal zone management, with a cross-cutting focus on gender and natural resource conservation. In Jordan alone, IUCN has successfully completed over 28 projects and is currently implementing 17 projects.
Target beneficiaries will consist of Syrian refugees, Palestinian refugees and vulnerable Jordanians living in the northern highlands and working in farming-related activities. Smart DESERT will directly assist 200 small/medium-sized farms and processing facilities (120 existing and 80 new farming businesses), as well as 510 HBBs. It will benefit 6K farm-related workers, as well as reach 15K entrepreneurs and trainees through direct and indirect capacity-building programs with cooperatives.
Key actions
Establish a Business Support Incubator: implementing entity & platform for engaging actors – redirect performances on technical, business & legal needs
Baseline and stakeholder's analysis: gendered assessment, mapping farms & HBBs, farming practices, etc
Beneficiary outreach, selection, engagement: equal distribution, with gender considerations
Technical Support: farm growth, smart/unconventional irrigation, new farming practices, increased efficiencies, new HBB practices in off-season months
Business Support: improved management, entrepreneurship, market linkages
Improve work conditions: legal support, training, awareness campaign on labour rights
On-farm technical support: Provide on-farm best practices training and rehabilitate low-output farmland at 200 farms: establish 5 demonstration sites and improve  food processing facilities
Business support: Train 25 farms/processing facilities on business management,  Support off-season income generation for 100 farms
Work conditions & labor rights: Deliver trainings on labor rights to 5 agricultural cooperatives and training to 750 farms/farm-related businesses