Context and Objectives
The Tafila Wind Farm breaks new ground for renewable energy projects in the Mediterranean. The Jordanian project will cover 3% of the national electricity demand and will create substantial jobs for qualified workers. As a private investment, Tafila is having a positive effect on business opportunities in the region.
Located in the Tafila Governate, the 117 megawatt wind farm contributes to Jordan's energy strategy and to regional targets in the field of clean energy. Jordan has set an ambitious goal of achieving 10% of total energy from renewable sources in 2020, of which wind power will account for 66.6%. The project aligns with regional goals by helping reduce the country's high dependency on energy imports while developing renewable energy generation. Tafila will also create local job opportunities and generate skills, improve access to energy, increase energy security, and decrease greenhouse gas emissions.
Wind energy is a very promising renewable energy source, and the Tafila Wind Farm will be the first renewable project to begin operations in Jordan and provide power to the Jordanian network. It leads the way for renewable energy projects in the Mediterranean as it is an example of partnership between the government and the private sector and demonstrates best practices.
The UfM endorsed the Tafila Wind Farm project in April 2014, recognising that it serves as an example in the region. Its main goals are: 
Cover 3% of the national electricity demand and contribute to job creation.
Contribute to Jordan's national strategy for energy as well as to regional targets in the field of clean energy.
Reduce energy import dependency and greenhouse emissions, and reinforce reliability of energy supply and security.
Location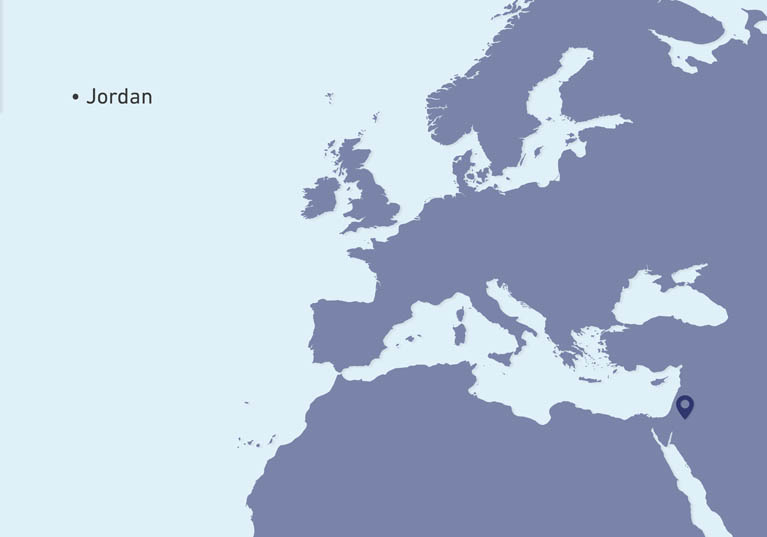 Financial contribution
The project is 100% funded through private investment and loans provided by a consortium of International Financial Institutions led by the European Investment Bank (EIB):
Promoter and partners
The Tafilah wind farm was developed by Jordan Wind Project Company, a co-development partnership between InfraMed (50%), Masdar (31%) and EP Global Energy (19%).
The beneficiaries of the project are the end users of housing units; commercial and industrial facilities; local residents through job creation; and local farmers and livestock owners through improved access & infrastructure.
Key actions
Construction of a wind farm in the Tafila Governorate: 38 turbines with a total capacity of 117 MW.
Installation of an internal collection system connecting the turbines to the transformer substation and to the high voltage transmission network.
Civil work for access roads and transformer station.
Provision of installation equipment and transportation of turbines.
Results
Once fully developed, provision of almost 10% of Jordan's wind energy target by 2020 (1,200 MW).
Coverage of 3% of the national electricity demand.