Transport & Urban Development
Context and objectives
The TransLogMED project develops training activities targeting the logistics sector, complementing the completed UfM-labelled project LOGISMED TrainingActivities (LOGISMED-TA).
Over a five-year period (starting in November 2017), the project aims to foster regional integration in the Mediterranean, enhance professional performance, and promote employment and gender equality in the transport and logistics sectors. These aims are achieved through various actions, including the promotion of intermodal transport solutions, the implementation of training and knowledge-transfer activities, and the development of sustainable transport chains and door-to-door logistics activities.
Over 30 networking seminars and certified courses will be held, benefiting almost 1,000 professionals in the transport and logistics sectors from Algeria, Egypt, Jordan, Italy, Morocco, Spain, and Tunisia.
Networking seminars and certified courses to benefit professionals in the transport and logistics sectors.
Sustainable transport chains.
Intermodal solutions for maritime transport, road, rail and inland navigation.
Location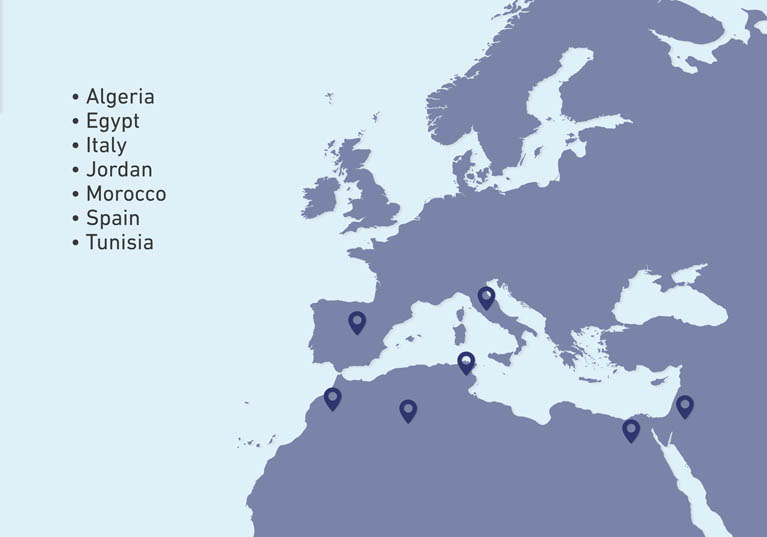 Promoter
The TransLogMED project is promoted by the European School – Intermodal Transport (Escola Europea – Intermodal Transport), a specialised training and knowledge-transfer centre. Over the past ten years, it has acquired outstanding experience in staff training and capacity-building activities related to sustainable transport solutions. These include short-sea shipping, motorways of the sea, and rail/road transportation. Similarly, the project partners are all leaders in the provision of maritime services in the Mediterranean.
Public administrators working in international trade and transport.
Transport operators.
Training centres delivering transport and supply chain courses.
SMEs and large companies working in national and international transportation and distribution.
Media outlets focused on the economy, logistics, transport and infrastructure.
Key actions
TransLogMED helps establish an efficient, interoperable, and sustainable transport infrastructure through:
Promotion of intermodal solutions, including maritime, road and rail transport, and inland navigation.
Capacity-building and developing sustainable transport chains.
Implementation of door-to-door logistics activities.
Expected results
690 participants will attend 23 networking seminars.
260 trainees will attend 13 courses and will acquire a certificate in Motorways of the Sea Management & Intermodal Port Operations.