Women Empowerment, a crucial factor for achieving peace and stability
In light of the rapid changes undergoing today's world, our vision for the future of women's empowerment in the Mediterranean region must, first of all, respond to the complex phenomena facing the families and communities of our region. These include processes of conflict and migration, deep-rooted changes in the demographics of our nations, and new opportunities for the positive transformation of the status quo, which has promot-ed a one-dimensional attitude towards issues of gender, to the detriment of women and girls.
As the President of Malta, a nation in the centre of the Mediterranean Region, and as a woman, I have had first-hand experiences of these specific challenges, but also of the great resilience and the spirit of courage which women and girls show, each and every day, to improve their lives and the lives of their families.
The 3rd Ministerial Conference on Strengthening the Role of Women in Society, facilitated by the Union for the Mediterranean in 2013, already highlighted the need for our Mediterranean countries to do more, to ensure that the women and girls of the Euro-Mediterranean region are further em-powered, in our journey towards achieving meaningful equity, equality, and inclusion.
[ufm_quote]"We cannot be complacent, when data from the World Bank tells us that women around the world are consistently paid less than men, earning on average only 60 to 75 per cent of men's wages, and are therefore at increased risk of precarity."[/ufm_quote]
I believe we must continue to acknowledge the important role women have played in the changes taking place across our region, particularly by encouraging women's fuller participation in the political, economic, cultural and social development of the Euro-Mediterranean.
I am confident that the 2017 Ministerial Conference will further contribute to a positive change in attitude and behaviour, towards women and girls in our region. Above all, I believe we must be united, to strongly condemn all forms of violence and discrimination, particularly on the grounds of gender.
This is especially essential, because women and girls are acutely suffering from the consequences of armed conflict, which is resulting in much higher rates of gender-based violence. Women and girls are rendered vulnerable to poverty and precarity, due to the loss of jobs and a lack of proper educational opportunities and basic shelter.
Mass displacement of people has become the order of the day. In fact, according to the United Nations Refugee Agency, women comprise nearly half of all refugees worldwide. Research shows that gender is a major factor, which creates higher risks for women and girls in such situations. In order to achieve our objective of peace, we must revitalise our global legacy of universal human rights, which is the clearest way to promote inclusive societies. In the inspiring words of Nelson Mandela, "to deny people their human rights is to challenge their very humanity."
We cannot be silent, when the humanity of countless women goes un-respected and unprotected. It is essential that we continue to make an inclusive, rights-based approach our top priority, within our nations and across our Euro-Mediterranean Region, to effectively address these concerns.
Moreover, if we truly wish to achieve meaningful peace and prosperity, then I believe that we cannot only act out of national interest. We must take a region-wide approach. We must understand that the progress of our countries needs to be mirrored by a holistic transformation, felt across the entirety of our Euro-Mediterranean Region. For this reason, we must be led, in all our endeavours, by the mandate of the United Nations' 2030 Agenda, and its Sustainable Development Goals. Agenda 2030 is a roadmap that brings with it a system of values, which promote respect for human dignity, the pursuit of equity, effective access to democratic participation, and equitable opportunities for prosperity.
In today's climate of uncertainty, when so many challenges are facing us on a constant basis, we cannot afford to be unsure of our objectives to achieve gender equity, equality, and inclusion. We cannot be complacent, when indicators from the World Health Organisation tell us that 1 in 3 women, around the world, are at grave risk of physical or sexual violence.
We cannot be complacent, when data from the World Bank tells us that women around the world are consistently paid less than men, earning on average only 60 to 75 per cent of men's wages, and are therefore at increased risk of precarity.
We cannot be complacent, when the European Commission itself reports that women and girls are at particular risk of trafficking and modern day slavery. Our authorities must take action on behalf of the most vulnerable members of our society, all over the Euro-Mediterranean Region.
It is women and girls, escaping from persecution in their home countries, who are at the most elevated risk of physical, sexual, and psychological violence. Increasing numbers of women, being pushed into precarity, results in the continued, and intergenerational, suffering of entire families and communities.
I believe that our authorities, policy makers, and civil society activists, across the Mediterranean, must act, together, to ensure that such situations are addressed in a timely manner.
I believe that it is our responsibility to call for increased accountability, and more accurate monitoring within the Mediterranean Region, of the ways in which our communities, societies, and nations are working towards on-the-ground improvements, in the lives of women and girls.
We must find ways of uniting the women of the Mediterranean, against these threats. We must encourage them to share their experiences, and use every platform to promote women's participation in the work of peace and wellbeing.
We must do more to listen to what women and girls have to say, and then take action to address their experiences. I urge all stakeholders, involved in this conference, to prioritise the needs and requirements of all local communities. We must highlight a bottom-up approach, which puts the individual and community at the centre of all our strategies.
Let us find ways of bringing the women of our Mediterranean together, especially those who have managed to achieve tangible changes within their communities. Strategies for sharing and mutual learning are crucial, to address issues of prosperity.
Let us be united, in pursuit of peace, prosperity, and wellbeing. Let us work together to create a Mediterranean legacy of universal human rights and fundamental freedoms, thereby safeguarding equity and dignity for each and every member of our human family.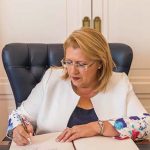 Marie-Louise Coleiro Preca, President of Malta
Marie-Louise Coleiro Preca, President of Malta, is the youngest serving Head of State and only the second woman to hold this post.
She has been active in national politics for the past forty years, since the age of sixteen. She served as MP in the Maltese Parliament from 1998 to 2014. 
As an Opposition MP, Coleiro Preca served as Shadow Minister for Social Policy, Shadow Minister for Tourism, Shadow Minister for Health and also as member of the Parliamentary Permanent Committee for Social Affairs and another for the Family Affairs. On 2013 Coleiro Preca was appointed Minister for the Family and Social Solidarity and she started working on a single-means testing mechanism and on a welfare reform. She also introduced an effective system against benefit fraud.
In January 2014, together with the Prime Minister of Malta, Coleiro Preca launched a Green Paper: A Framework for Poverty Reduction and for Social Inclusion. Furthermore, she introduced a number of measures to address poverty including a child supplement aimed at 22,000 children at risk of poverty