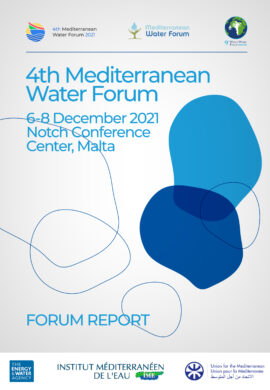 4th Mediterranean Water Forum – Forum Report
Initiated in Marrakech in 2011, then held in Murcia in 2014 and Cairo in 2018, the Mediterranean Water Forum is intended to be a regional event that brings together the main stakeholders in the Mediterranean water community.
Given its specificity as an inter-continental crossroads, a target region for water scarcity and a hot spot of the effects of climate change, the Mediterranean region is a dynamic platform to a large number of solutions and experiences on water issues that can be highlighted during the World Water Forum.
The World Water Council supported the organisation of the 4th Mediterranean Forum through a mission entrusted to the IME to facilitate the mobilisation of the Mediterranean water community and to launch a feasibility study for the setting up of an International Observatory of Non-Conventional Water Resources and Associated Renewable Energies, in a first pilot area located within the Mediterranean-Sahel Region, before its extension to the world level. This Observatory will be designed to monitor the use of non-conventional water resources and the renewable energies dedicated to them.
The Forum aimed to present the Mediterranean as a hub of innovative water management solutions which have been locally developed or adapted to address the prevailing challenges of the region including those related to climate change impacts. It also outlined how the Mediterranean region is developing an integrated implementation framework through the Union for the Mediterranean's Water Agenda, while also ser-vicing other important political and technical regional and sub-regional frameworks, which ensures that different water management actions reinforce each other thereby providing a comprehensive solution for evolving needs. In so doing, the forum presents the value of the Mediterranean region in the development, adaptation and implementation of effective and integrated water resources management (IWRM) solutions. It also showcases the replication potential of these solutions to address emerging problems at a global scale, including as a contributor to jobs, prosperity, stability and peace.
The Forum was a great opportunity to present the results in relation to the 20 "Water" targets of the United Nations SDGs for the 2030 horizon, including the 8 linked to SDG 6 (access to drinking water and sanitation).
March 2022
…Other publications you may like