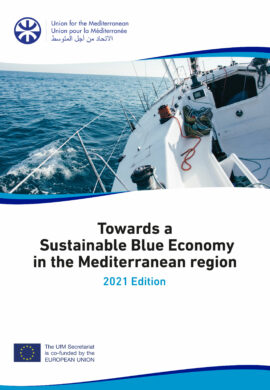 Towards a Sustainable Blue Economy in the Mediterranean region – 2021 Edition
In February 2021, Ministers from the 42 Union for the Mediterranean (UfM) countries have agreed to intensify their efforts towards a sustainable blue economy in the Mediterranean.
In the aftermath of one of the biggest crises that has affected the region and beyond since the WWII, it is clear that the blue economy must now address a number of serious challenges, but it also has the full potentials for offering a resilient source of growth and jobs across the Mediterranean region.
Opportunities for sustainable innovations are evident for green shipping, sustainable aquaculture and fisheries, as well as maritime and coastal tourism in the region – all activities that provided a strong source of growth and particularly jobs in the past and can still play a pivotal role in the future of the region, if capable of fully embracing available new technologies, news innovative business models or manage the shift from global to more local. Emerging niches in areas, such as renewable marine energy, blue biotechnologies as well as marine safety and security, have instead the potentials to develop through time into rich and diversified economic business ecosystems.
For the sector to be able to address the current challenges and fulfil its full potentials in the mid-term, nevertheless, a number of cross-cutting areas should be fully addressed including through the active and coordinated support of policymakers in the region.
Avoiding marine litter and pollution, fostering marine and maritime research and innovation, providing the right incentives for striving blue skills, careers and overall employment are all pivotal activities which would enable a sustainable growth for regional blue economy economic activities.
Importantly, sustainable investments must be mobilised across the blue economy activities, both mature and embryonic, and a strong governance should be ensured across the region, including through – but not limited to – a strong role of sea basin strategies in the future.
This 'Blue Economy in the Mediterranean Report' provides an updated overview and projection of the potential of the blue economy in the region, including an analysis of each of the blue economy sectors, based on the most recent available data and sources, and it also includes identified trends in the creation of job opportunities and skills development.
Topics include the governance and the future of sea basin strategies in the Mediterranean region; the status of marine and maritime research and innovation, skills, careers and employment; interactions between marine litter and the sustainable blue economy and sustainable investments in the blue economy.
At the same time, the following maritime sectors of particular interest in the Mediterranean are also introduced, which include fishing and aquaculture, coastal and marine tourism, maritime transport and ports (including shipbuilding), marine renewable energy and maritime safety and security.
Publication coordinator and supervisor: Alessandra Sensi, Head of sector, Environment and Blue Economy, UfM
Study coordinator: Marta Pascual
Study Team: Javier Fernández, Matteo Bocci, Frédérick Herpers, Jan Wynarski, Irene Alonso
June 2021
…Other publications you may like