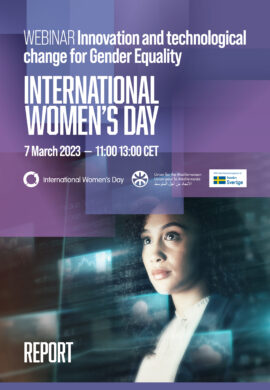 International Women's Day 2023: Webinar Innovation and technological change for Gender Equality
In line with the theme chosen for UN International Women's Day, 8 March 2023, "DigitALL: Innovation and technology for gender equality", the UfM held a Webinar on Innovation and technological change for Gender Equality on 7th March 2023 from 11h to 13h.
While the digital revolution carries with it huge potential to improve social and economic outcomes for women, it also poses the risk of perpetuating existing patterns of gender inequality. Despite recent improvements, a large gender gap continues in technology and innovation. Women and girls are underrepresented in industries, academia, and the broader technology sector. As the UN Women's Gender Snapshot 20221 report reveals, globally, women hold only 2 in every 10 science, engineering and information and communication technology jobs. At the 20 largest global technology companies, women are 33 per cent of the workforce in 2022 but hold only one in four leadership positions. Women inventors make up only 16.5 per cent of inventors listed on international patent applications globally.
Narrowing the gender gap in digital skills could contribute to narrowing the gender wage gap by providing access for women to higher skilled ICT-related roles.
Within this context, the aim of the event was to raise awareness on the gendered impacts of innovation and technology, as well as on the interventions that are needed to address them. Representatives of European Commission, international (UNIDO) and regional organizations and networks (EMA), as well as successful women entrepreneurs working on the field of digital platforms AI and Tech in the MENA Region (Algeria, Egypt and Tunisia), shared good practices and discussed solutions for an inclusive digital ecosystem. In particular, panelists shared their experiences and recommendations on how to ensure that no-one is left behind; on how to create a gender-transformative innovation ecosystem; and on how to ensure that technology and innovation responses to the needs of women and girls are inclusive and accessible.
March 2023
…Other publications you may like