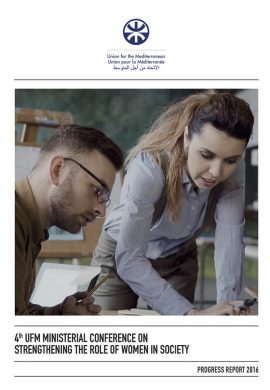 Progress Report: Strengthening the Role of Women in Society
Today, it is widely recognized and evidenced that when countries value girls and women as much as boys and men; when they invest in their health, education, and skills development; and when they give them greater opportunities to participate in the economy, own and run businesses, the benefits extend to all societies and to economies at large.
Remarkable progress has taken place in the region in relation to women and girls' rights, and overall, gender issues have gained significant momentum. All UfM countries express commitments to gender equality within their legislative, constitutional and international frameworks – such as gender equality laws, commitments to Beijing and constitutional assertions of equality between men and women. In addition, further positive actions have been taken at the level of parties, parliaments and local bodies to increase participation of women in political life, such as quota systems reserving a set number of seats in parliaments and local councils for women. At the economic level, countries have adopted legislations and mechanisms to integrate women in economic activity and launched programmes to promote an enabling environment for women.
Author: Union for the Mediterranean
December 2017
…Other publications you may like