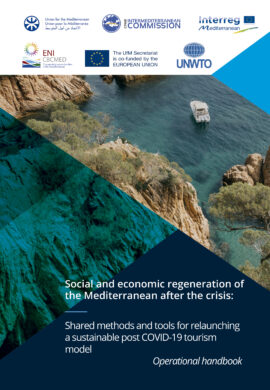 Social and economic regeneration of the Mediterranean after the crisis: Shared methods and tools for relaunching a sustainable post COVID-19 tourism model
Development dynamics and trends in the Mediterranean, as in the rest of the world, have suffered a severe slowdown since 2020. In many cases, they have taken the form of a sharp reversal following the outbreak of the COVID-19 pandemic and the social and economic crisis that has ensued. The pandemic crisis has weakened economic sectors that are considered vulnerable as they are more than others influenced by different variables. The Mediterranean basin and the countries of the three continents bordering it have not been spared by the crisis, and in this context one of the hardest hit sectors has been tourism.
Consequently, many of the measures adopted by national governments have focused, on the one hand, on income support for workers in the tourism sector and, on the other, on support mechanisms for the activities linked to the sector (directly or indirectly). At the same time, many Mediterranean countries, especially within the framework of multilateral and supranational initiatives, have been preparing recovery plans to tackle the post-pandemic phase and beyond.
Coastal and maritime tourism plays a central role in the dynamics and development processes of territories. In this Handbook, representatives of International Organisations, countries, and European Territorial Cooperation Programmes and projects share the results of positive experiences in the concrete implementation of pilot initiatives to enhance sustainable tourism supply chains at local and basin level, and identify communication channels to promote a closer connection between the levels of government and civil society. Ultimately, this publication aims to demonstrate that the ongoing crisis is to be considered as an opportunity for more resilient and sustainable coastal and maritime tourism in the Mediterranean.
Publication coordinators and supervisors: Alessandra Sensi, Head of sector, Environment and Blue Economy, UfM / Elodie Nunes, Executive Secretary, CPMR Intermediterranean Commission.
Handbook coordinator: Michele Colavito
Handbook team: Matteo Bocci, Claudia Guzzon, Frédérick Herpers, Flora Leroy, Thanos Smanis.
March 2022
…Other publications you may like