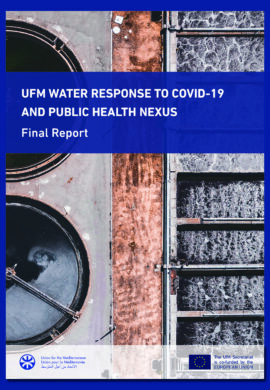 UfM Water Response to COVID-19 and Public Health Nexus – Policy brief on WASH regional strategy
Objective of the Report: This report aimed at identifying policy recommendations that can be implemented in the Mediterranean region, projects and initiatives that illustrate the UfM Water response to the COVID-19 and public Health nexus.
Highlights: Globally, the WASH strategies are more "crisis-response" oriented than "planning strategy" oriented. The WASH system in the Mediterranean Region is fragmented over many institutions. The WASH sector needs a whole governmental approach rather than a sectorial fragmentation, which could be achieved by following the WHO recommendations with specific fine tuning to the region such as ensuring greater public participation, prioritizing risks for vulnerable groups, and strengthening the capacity to implement change process through a close association with local governments and enhance inter ministerial strategy.
Follow up: The UfM Secretariat is promoting regional dialogue and initiating partnership facing the WASH challenges in two directions: promoting policy dialogue tools and developing a "proactive" policy influence.
Development: Almotaz Abadi, UFM water Managing Director, in close cooperation with Guy Fleuret, Senior International Expert, with the support of IME.
April 2021
…Other publications you may like