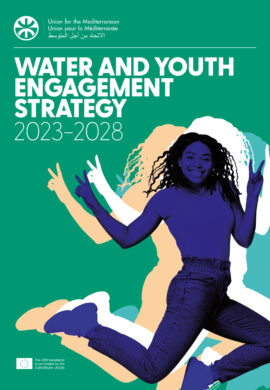 Water and Youth Engagement Strategy 2023-2028
Youth in the Mediterranean face many challenges including the mismatch between skills and job market needs leading to a growing phenomenon of the water-employment-migration, which is amplified by the lack of appropriate career development and job opportunities.  For these reasons, there exists a strong need to empower and build youth capacity to improve their readiness for the emerging water job market, as well as to enable their entrepreneurial pursuits within the water sector. The UfM seeks to help youth overcome the barriers they face by investing in a long-term water youth engagement strategy which aims to support their professional journeys.
In order to build the capacity of youth whilst tackling the challenges of water in the Mediterranean region, the UfM has developed a 5-year Water and Youth Engagement Strategy. The water youth engagement strategy is based on principles of the UfM Youth strategy which gives an umbrella document for all sectors including water*. This specific engagement strategy on Water aims to support youth through three main objectives including (1) Attracting prime talent into the water sector, (2) Strengthening policy skills, and 3) Building capacity toward careers and entrepreneurship in the water sector. To carry out the objectives, nine key programs have been identified and conceptualized.
These programs include: Water Seminar Series, Water Online Courses, Young Changemakers in Policy: Capacity Building Program, Youth in High-Level Policy Dialogue, Youth seat on the UfM Water Expert Group and Water Task Forces, MED Water Immersion Experience, MED Water Internship Program, Early Career Professional Mentorship Program and potentially Water Jobs Short Film Features.  The development of these programs was a result of a participatory process and continuous consultations with vested Mediterranean water and youth organizations.
Authors:
Almotaz Abadi, Deputy Secretary General for Water, Environment and Blue Economy, UfM Secretariat.
Basim Saleh, Consultant, GreenTech.
Lindsey Blodgétt, Principal consultant and Founder, NextWave Consulting.
Bassel Daher, Independent consultant.
March 2023
…Other publications you may like