Gender equality needs men and men need equality
There is no full democracy without women and equality is not possible without the involvement of men. The great challenge of the 21st century in achieving true human development in the Euro-Mediterranean region inescapably involves devising a regional strategy to bring about a shift in men in all countries towards more equal attitudes and practices, with special emphasis on young men and fathers as well as men who have political responsibilities: responsibility starts with example, commitment and the ability to make decisions.
The 4th Union for the Mediterranean Ministerial Conference held in Egypt in November 2017 is an outstanding opportunity and an unmatched setting for achieving the agreements and progress our societies need, and including men in policies and actions that work towards equality is crucial in doing this.
[ufm_quote]Bringing about change in men is a recognised and global challenge for humanity[/ufm_quote]
The 48th Session of the United Nations Commission on the Status of Women in 2004 marked the first time that internationally agreed conclusions have been reached on the role of men and boys in achieving gender equality. The Secretary General of the United Nations published a report describing the struggle for gender equality as a societal responsibility that concerns and should fully engage men as well as women and requires partnerships between women and men.
The Commission called on governments to take a range of measures such as implementing programmes to increase men's ability to bring up their sons and daughters in a way that fosters gender equality, drawing up public information campaigns about the role of men in promoting equality and encouraging men and boys to play an active role in preventing and eliminating all forms of violence, especially violence against women.
The European Union's Roadmap for equality between women and men 2006-2010 says that men should be encouraged to accept their family responsibilities, especially by encouraging them to take parental and paternity leave and share the right to this leave with women. The 2767th meeting of the Council of the European Union recognised that issues related to men and gender equality have not yet been studied in their entirety and urged the Member States to reinforce institutional structures for the promotion of gender equality, both in the public and private sectors, and to also support men's involvement in promoting and achieving gender equality.
Recommendations
• Devise specific programmes to sensitise and educate men and boys about joint responsibility and the prevention of violence against women and girls, thus promoting participation by society.
• Base actions on scientific evidence: research the state of masculinity in the Euro-Mediterranean region and produce regular publications.
• Involve and train the region's leaders in gender equality: champion a men's lobby for fairness with commitments and specific actions to achieve change in men and drive women and girls' empowerment.
• Promote birth and adoption paternity leave for men as a key aspect for including them in care. • Implement positive fatherhood programmes by involving fathers in the process of pregnancy, childbirth and upbringing.
• Have resources and an extraordinary budget in place to implement these policies since the inclusion of men should not be to the detriment of measures specifically geared towards women and girls which are already being carried out.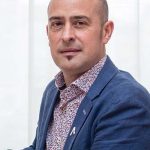 Ritxar Bacete González, Hombres por la Igualdad
Ritxar Bacete González is a Senior Fellow at Promundo. He is an independent consultant, educator, researcher, and activist focused on fatherhood and engaging men and boys to promote care, gender equality, and ending violence against women in Spain and Latin America. Along with Promundo and local partners, he is leading the International Men and Gender Equality Survey (IMAGES), a multi-country study of men and gender equality, in Spain. Ritxar specializes in the implementation, promotion, and coordination of institutional equality programs for men, like the program "Gizonduz" of the Basque Institute for Woman.
In 2016 he coordinated the research "The Involvement of the Basque Fathers in the Upbringing of Children" for the Department of Employment of the Basque Government. He is also a member of the Network of Men for Equality in Spain. Ritxar is an anthropologist, social worker, master of gender research and coaching of people and teams, a specialist in development cooperation and applied economics, a writer about masculinities and gender, and above all, a father