Role models who walk our walk
All over the media we read about the challenges of women and how to overcome them. The rhetoric is always the same yet nothing happens.
I propose approaching the matter in a new way…
Showcasing role models from the grassroots… humans evolved to learn from each other through social interaction… this comes from seeing and accompanying role models…
When the young generation sees role models that mirror themselves they gain the confidence to make a change… to produce their own solutions because they know better their problems and how to solve them.
[ufm_quote]The challenges that face women in the Arab world are multiple. Most importantly is stereotyping by both east and west. [/ufm_quote]
The west comes into our world imposing solutions that they have developed for their women empowerment challenges assuming we have the same problems. However, our challenges are different. Therefore, it is dangerous to suggest western solutions work for us. In many cases implementing these western solutions cause more harm than good. Solutions address one aspect and do not usually take a holistic approach to the problem. One needs to address all parts.
Another challenge is representation of women in decision making and the public arena. I am not talking about lack of women. What I mean is lack of women representation from the grassroots … The everyday women. Instead we find the elite from a small sector of society who do not represent the majority of women representing women of the region in public events. For example; recently in an international conference at the UN for civil society. Among a group of women representing different countries from the Arab world in a public platform only one woman wore a hijab and the rest did not, when over fifty percent of women in the Arab world wear a hijab.
As a result of this misrepresentation, our young generation grows up with lack of confidence in themselves both male and female. Because they don't see themselves in a position of power and empowerment. They see others who dress and talk like the west even if they are Arabs.
Therefore we need to promote role models for young people to see and look up to. For young females this is important to give them courage and for them to believe that nothing is impossible. For young males to grow up and be used to seeing women assuming different and new roles. So that they grow up to support their wives, daughters, sisters etc. These role models have to be from the community and from all sectors and backgrounds.
Another important point is mentoring. We need to mentor each other, advise each other so that we can overcome the challenges, discuss in an open and free environment what to do and how to do things. Mentoring results in networks among individuals that leads to empowerment. In Jordan we started a mentoring network for female scientists that resulted in a tool kit for anyone to adopt and implement to benefit all. The objective of mentoring is to learn and develop expertise as well as provide support for each other on multiple levels. The model proposed has been implemented in Jordan in the context of the Arab world. Three Circles of Alemat was formed in response to the low representation of women in academia and the challenges they face. The objective of the Mentoring Toolkit for mentors and mentees is to assist in creating circles of mentoring and social networks that promote their professional life and boost their personal well-being. The toolkit provides guidelines that are general enough to support a grass root approach for unique solutions accommodating local context through holistic mentoring. This toolkit is geared towards organizations, institutions and group entities.
We have also initiated a girl empowerment program where girls in teams identify the challenges they face, come up with solutions, then they apply for a grant to implement the solution over a period of one month. The objective is not succeeding in implementing the solution and solving the challenge. The main objectives are the lessons learned along the journey of implementation that result in female empowerment at the personal level and through self discovery in a team.
The role that regional frameworks and the UfM can play in strengthening the role of women in societies is by raising awareness to the importance of females everywhere and how that impacts the economy, products marketing, research and health.
Most importantly, listening to women, giving them the freedom to do what they think is best for themselves whatever that decision may be. And support them in their decisions. That is true freedom.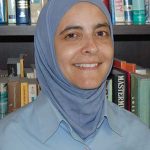 Rana Dajani, Expert on Genetics of Populations, Jordan
Rana Dajani Ph.D in molecular cell biology, a Harvard Radcliff fellow, a Fulbrighter, Eisenhower fellow, Associate Professor and former center of studies director. She is a world expert on genetics of populations in Jordan where she established stem cell research ethics law. She is also an advocate for biological evolution and Islam, speaker at McGill University and MIT.
She established a women mentor network, she is the recipient of several awards including PEER award 2014, was named most influential women scientists in Islamic World and12th most influential Arab women in 2015. She was a speaker at TEDx Deadsea, the World Islamic Economic Forum 2012 and World Science Forum 2015. She developed a community-based model "We love reading" to encourage children to read for pleasure which received Synergos Arab world social innovators award in 2009, WISE Award 2014, King Hussein Medal of Honor and the UNESCO International Literacy Prize 2017.