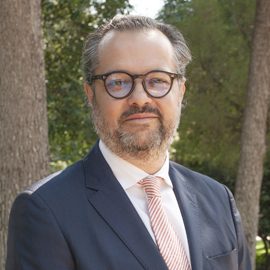 Economic Development and Employment
Rachid Maaninou
Deputy Secretary General
Rachid Maaninou is the Deputy Secretary General of the Union for the Mediterranean in charge of Business Development and Employment
Full bio
Mr. Maaninou is a Moroccan citizen. He holds an MBA degree and a BA in Hotel Engineering from the University of Toulouse in France.
Prior to his appointment at the UfM Secretariat, he was Head of the Division of Economic Studies at the Moroccan Ministry of Foreign Affairs and International Cooperation. He was appointed by HM the King of Morocco as General Inspector at the Ministry of Youth and Sports. He also spent nearly a decade in the Moroccan National Tourism Office as Director of Operations.
In the private sector, Mr. Maaninou was Chief Operating Officer of Al Qudra Holding Abu Dhabi, a state-owned investment fund based in United Arab Emirates. He also worked as independent consultant for many companies that opened in Morocco.
Team
Mohammed El Razzaz
Hamed El Etreby
Johannes Laepple
Andreas Garbade
Alicia Figueroa
Said Charna
Contact