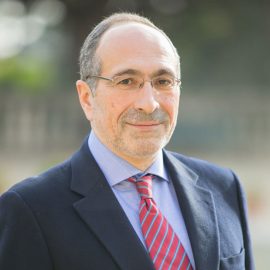 Energy and Climate Action
Jorge Borrego
Senior Deputy Secretary General
"Renewable energies and energy effciency offer a unique opportunity for countries to reduce their vulnerability in terms of energy security -which is at the top of the international political agenda-, building climate resilience in our societies and fostering the transition to new sustainable development models. Thanks to its regional policy dialogue platforms as well as its flagships projects, the UfM offers a unique opportunity to support a comprehensive approach, including markets issues and national policies, towards the energy transition challenges."
Jorge Borrego is Senior Deputy Secretary General at the Secretariat of the Union for the Mediterranean since 2016.
Full bio
Jorge Borrego is Senior Deputy Secretary General for Energy and Climate Action at the Secretariat of the Union for the Mediterranean since 2016. Of Portuguese nationality, he holds a degree in Mechanical Engineering and is a Senior Member and Energy Specialist of the Portuguese Engineers' College. He is fluent in English, Spanish and French.
Before joining the Secretariat, Jorge Borrego was General Manager of REN (Redes Energéticas Nacionais), between 2010 and 2015 heading International Affairs and supervising Labor Relations.
He was executive member of the Board of Galpower, SA. (Business Unit of Galpenergia for Power Generation and Commercialization) in two terms, 2000-2001 and 2005-2010, and previously performed several directorate responsibilities within Galpenergia.
In the public sector, Jorge Borrego has been Secretary of State for Transport and Communications (2004-2005); General Director of Energy (2001-2004); Deputy General Director for Energy (1988-1996) and National delegate for the High Level Group of Energy of the European Union (EU) Council; the Governing Board of the International Energy Agency and several Management Committees for R&D EU Programs.
He has also worked as independent consultant -inter alia with several international multilateral agencies- with experience in Energy Policy and Administration in Central and Eastern Europe and Africa.
Team
Cristina Moral
Arnault Graves
Laura González-Laso
Contact