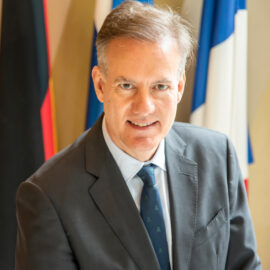 Higher Education and Research
Álvaro Albacete Perea
Deputy Secretary General in charge of Higher Education and Research
Álvaro Albacete is the UfM Deputy Secretary General for of Higher Education and Research since September 2022.
Full bio
Álvaro Albacete Perea is Deputy Secretary General of Higher Education and Research at the Union for the Mediterranean since September 2022. He is a career diplomat of Spain. Prior to his current assignment, he served as a Deputy Head of Cabinet of the Foreign Minister, Director General of Sefarad/Israel Center, and Ambassador At Large responsible for the relations of Spain with Jewish Communities and Organizations. More recently, Ambassador Albacete has held the positions of Deputy Secretary General of the International Dialogue Center, and diplomatic adviser in the office of the Prime Minister of Spain.
Ambassador Albacete has developed part of his career as a diplomat working in international organizations, such as the European Union, in Bosnia/Herzegovina, and the Inter-American Development Bank, in Argentina, Bolivia and Panama.
Photos
Team
Itaf Ben Abdallah
Giuseppe Provenzano
Joao Lobo
Laura González-Laso
Contact