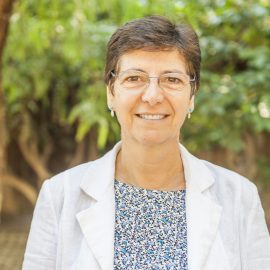 Laurence Païs
Deputy Secretary General
"Responding to youth's need, developing women's empowerment and gender equality and enhancing civil society participation are the main priorities of the Social and Civil affairs division, which aims at putting the human being and the people's welfare at the heart of its mission."
Laurence Païs is the Deputy Secretary General of the Union for the Mediterranean in charge of Social and Civil Affairs since September 2017.
Full bio
She is a French career Diplomat with 30 years of experience, specialized in the fields of multilateral negotiations, cooperation and development. She was involved, inter alia, in the negotiation of common positions on foreign and security policy, particularly in the case of countries in crisis in the Middle East and Africa.
She served as Political Advisor in several French embassies including Oslo and Ottawa and occupied various positions at the French Ministry of Foreign Affairs. She has been Responsible for the Rule of Law, Human Rights and Reconstruction Division, in the Department of Democratic Governance and Deputy Director of Multilateral and Sectoral Issues at the Directorate General of Political and Security Affairs.
Before joining the Secretariat, she was Deputy Permanent Representative of France to the Political and Security Committee of the European Union.
Team
Fatiha Hassouni
Juli Hernández
Abdelkader El Khissassi
Contact