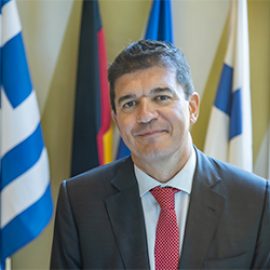 Water, Environment and Blue Economy
Isidro González
Deputy Secretary General
Isidro González is the Deputy Secretary General of the Union for the Mediterranean in charge of Water, Environment and Blue Economy since September 2019.
Full bio
Isidro González Afonso is a Spanish career diplomat who has served the Spanish Ministry of Foreign Affairs, European Union and Cooperation for the past eighteen years, holding positions as Counsellor and Senior Adviser in several Foreign Affairs Minister´s Cabinets in Madrid, and, lately, as Counsellor at the Embassy of Spain in Rabat.
He has also been a member of the Spanish OSCE Chairmanship Team in 2007 at the Permanent Mission of Spain to the Organization for Security and Cooperation in Europe in Vienna; Deputy Head of Mission at the Embassy of Spain in Nicosia; and Deputy Consul General at the Consulate General of Spain in Jerusalem.
Isidro González Afonso has a wide experience in the Mediterranean region, with a special focus on regional integration and negotiations for conflict management and resolution.
Team
Almotaz Abadi
Alessandra Sensi
Samira Shaban Pina
Mirian Gonzalo
Contact