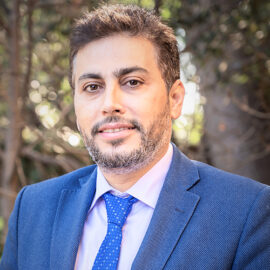 Water, Environment and Blue Economy
Almotaz Abadi
Deputy Secretary General for Water, Environment and Blue Economy
Full bio
Almotaz Abadi is the UfM Deputy Secretary General in charge of Water, Environment and Blue Economy since September 2022.
He was UfM Acting Deputy Secretary General for the same division between September 2015-August 2016. Moreover, Abadi has held the Water Managing Director position at the UfM, leading initiatives on the water political process in the Mediterranean, including a Ministerial Declaration and approving a regional water strategy, linking resource efficiency with bolstering investment and financing for the services sectors, including water and renewable energy.
Before the UfM, he was the director of the Aid Coordination & Management Unit with the donor community and the Government of Palestine in the water and related sectors. Also, he had a main role in the EXACT program, led by the State Department and coalition of Donors to enhance the socio-economic aspects, and helping build just and equal opportunities with the framework of the MEPP.
Abadi is an international and regional cooperation expert, engineering by training and accredited diplomat by experience. He developed his career during the last 20 years working with international donor agencies, international and regional organizations as well as policy advisers to governments in the region.
He holds a master's degree in Water Resources Management and one in Governance, as well as a postgraduate in leadership and multilateral cooperation on resources and cross border arrangements. Regarding informal activities with civil society, Abadi was part of groups that established the Green Buidling Council in Palestine, the Middle East Water Forum. He is also Alumni to International Visitor Leadership Program (IVLP) of the US and Active member of the Pugwash group.
Team
Alessandra Sensi
Samira Shaban Pina
Mirian Gonzalo
Adriana Salazar
Frédéric de Dinechin
Contact