UfM Grant Scheme to promote employment and entrepreneurship in the Green Economy
Economic Development and Employment
Open call for non-profit organizations in the Euro-Mediterranean Region
Barcelona, 16 March 2023. The Union for the Mediterranean (UfM) has launched a Grant Scheme to promote employment and entrepreneurship in the green economy. Aiming to support the green transformation of the Southern Mediterranean economies, this call for proposals is especially targeted to benefit vulnerable groups, which are disproportionately affected by the consequences of climate change and the related changing socio-economic landscape.
The green economy, green skills and green jobs are poised to play a key role in a sustainable recovery of the Southern Mediterranean region in the aftermath of the COVID-19 pandemic. With this new Grant Scheme, the UfM is actively supporting not-for-profit organisations that work to advance the green transition of economies in an inclusive and socially just way.
In addition to a financial support of €150,000 to €300,000 per project, becoming a grantee gives access to the UfM's technical expertise, networking opportunities and visibility. To be eligible, non-governmental organisations must be based in Algeria, Egypt, Jordan, Lebanon, Mauritania, Morocco, Palestine or Tunisia, with priority given to regional projects. The deadline for the submission of applications is 29th of May 2023.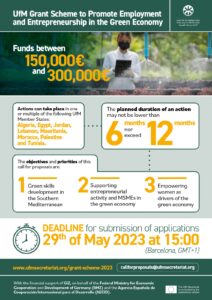 "Building on the previous edition of the UfM Grant Scheme, which supported employment promotion projects in response to the COVID-19 pandemic, this initiative focuses on sustainable approaches to job creation, skill acquisition and entrepreneurship in the green economy. It reflects the UfM's determination to respond to the economic crisis on regional, national, and local levels, by improving citizens' employment situations as well as the business environment for entrepreneurs and MSMEs", explains Nasser Kamel, UfM Secretary General.
This initiative is funded by the Union for the Mediterranean with the financial support of the German Development Cooperation (GIZ), on behalf of the Federal Ministry for Economic Cooperation and Development of Germany (BMZ) and the Spanish Agency for International Development Cooperation (AECID).
Launched in 2020, the first edition of the UfM Grant Scheme for Employment Promotion has already benefitted 18,000 individuals, mostly youth and women, from 7 UfM Member States, namely, Greece, Italy, Jordan, Lebanon, Malta, Morocco and Tunisia. These projects are tackling the labour challenges in the fields of entrepreneurship, women empowerment, sustainable tourism, as well as education and research.
More information on UfM Grant Scheme to Promote Employment and Entrepreneurship in the Green Economy