UfM launches project to provide economically disadvantaged young women with skills and tools to successfully access the job market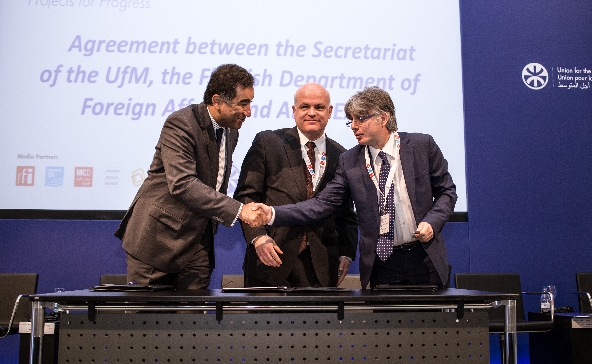 Barcelona, 26 March, 2013. The Union for the Mediterranean's labelled project 'Skills for Success: Employability skills for women' was launched today during a Conference entitled Women's Socio-Economic Empowerment: Projects for Progress Conference, which is being held at the headquarters of the UfM, in Barcelona, on 26 and 27 March.
Promoted by America Mid-East Educational and Training Services (AMIDEAST), the project is an employability-skills training programme aimed to provide economically disadvantaged girls and young women who have completed secondary school (aged 15-20) with specific knowledge, skills and tools to enter the job market. The programme encompasses training in English language and enhanced professional skills, including computer and business skills development, as well as job search tools and advice.
The implementation of the first phase of the project will target unemployed women in Jordan, Tunisia and Morocco and will start in the coming months. The second phase will take place in Egypt and Lebanon in late 2014 and early 2015. The programme is expected to expand to additional locations and increase the number of training cycles conducted annually, to potentially reach some 1,800 unemployed women per year.
Co-funding for the project's first phase has been granted by the Norwegian Royal Ministry of Foreign Affairs and the Flemish Department of Foreign Affairs.
By promoting the economic empowerment of women in the region, the project contributes to the mitigation of high unemployment rates among secondary-level educated women in the Southern Mediterranean. It also aims to improve the necessary work-force skills to support national and regional economies.
Over the last 30 years, female participation in the Southern Mediterranean region's labour force has grown at a rate of only 0.17% annually. Only 25% of women in the region are employed or actively searching for a job. A stronger role of women and youths is necessary to build economically prosperous and socially stable societies.