UfM Secretary General and Palestinian Minister of Foreign Affairs hold talks on the state of play of Euro-Mediterranean cooperation and regional challenges
Water Environment & Blue Economy
Barcelona, 20 January 2016. Within the framework of his official visit to Spain, the Palestinian Minister of Foreign Affairs and Cooperation, Dr. Riyadh Al-Malki, accompanied by the Palestinian Ambassador in Madrid, Amb. Musa Amer Odeh, paid an official visit to the UfM Secretariat on 19 January, during which he held talks with the Secretary General of the Union for the Mediterranean (UfM), Fathallah Sijilmassi. The visit provided the opportunity to discuss Euro-Mediterranean cooperation and regional challenges, as well as Palestine's active involvement in UfM initiatives and projects.
Dr. Al-Malki highlighted the strong political support given by Palestine to the Union for the Mediterranean. Secretary General Sijilmassi reaffirmed the UfM Secretariat's commitment to support the Palestinian Government in its socio-economic initiatives and stressed the importance of Palestine in the Euro-Mediterranean agenda.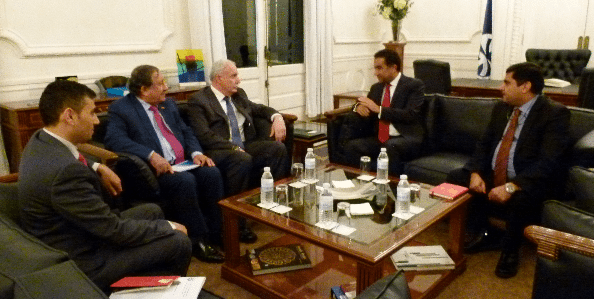 The discussions also focused on the UfM-labelled project 'Desalination Facility for the Gaza Strip', which aims at building a large-scale desalination facility and its associated water supply infrastructure that will supply drinking water to more than 1.8 million Palestinian inhabitants of the Gaza Strip, thereby presenting a long-term solution for the chronic and longstanding water shortage in Gaza.
This flagship project counts on the support of a large consortium of countries and institutions. The UfM Secretariat together with the Palestinian Water Authority will organize a coordination meeting in Barcelona in February 2016 among the IFIs, the European Commission, and the Palestinian Water Authority (PWA). The meeting will address the remaining technical issues and pave the way for a Donor's Conference later in 2016. The project is expected to be launched by the end of this year.