UfM on World Water Day: Preserving natural resources in the Mediterranean to tackle water issues
Water Environment & Blue Economy
22  March 2018. World Water Day, on 22 March every year, is about taking action to tackle water-related issues. This year's theme explores the need to preserve nature to overcome water challenges such as environmental damage, water pollution and water scarcity. The Mediterranean region is one of the most water-scarce areas in the world and freshwater, together with the pollution of the existing resources, has reached alarming levels, with more than more than 180 million people being considered water poor and an additional 60 million facing water stress.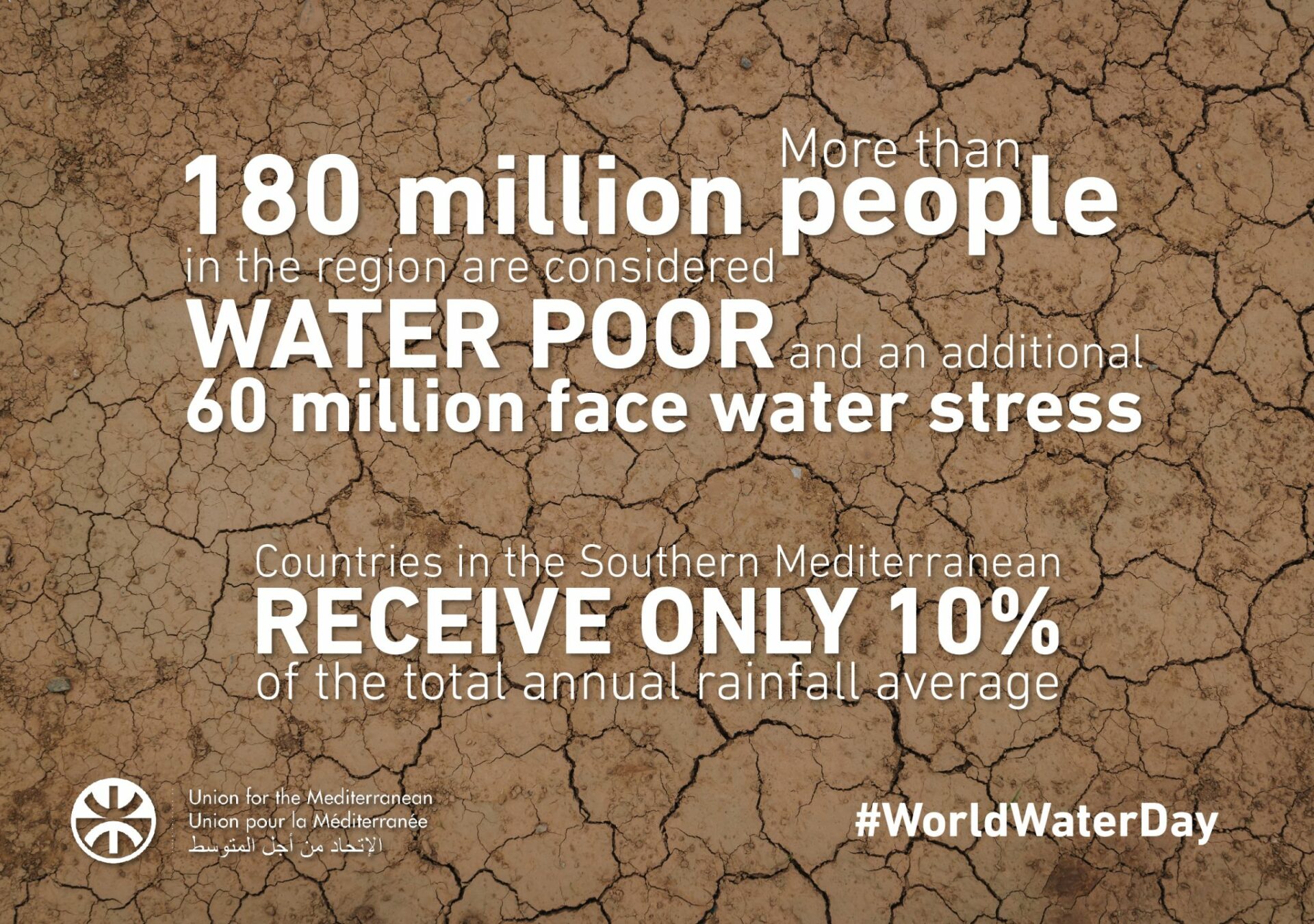 Promoting regional partnerships and creating sustainable cooperation mechanisms on water use is needed to reverse this downward spiral, while developing and disseminating viable regional initiatives to bolster water security in the Mediterranean. The UfM is participating this week in the 8 World Water Forum being held in Brasilia, where the Mediterranean region is recognised as a relevant regional space. The Mediterranean preparatory process is led by the Union for the Mediterranean and the Institut Méditerranéen de l'Eau (IME).
The UfM is currently working on 23 sustainable development initiatives, 10 of which are specifically water-related. Some of the most representative examples of these projects include:
The Desalination Facility for the Gaza Strip Project, whose Donor Conference kicked-off its implementation this week, pledging a total of €456 million out of the €562.3 million required (more than 80% of the total cost). This desalination plant, a UfM flagship project since 2011, will supply drinking water to 2 million Palestinian inhabitants, where over 95% of the water is not drinkable due to the over-pumping of the Coastal Aquifer.
The UfM labelled project Plastic Busters seeks to effectively tackle the issue of marine litter in the Mediterranean, where the average amount of municipal solid waste produced in the EU is 520kg per person/year and is projected to increase to 680 kg per person/year by 2020, according to the European Environmental Agency (EEA). The official launch of the project will take place in Siena, Italy, on the 17 April 2018.
The Integrated Programme for the protection of Lake Bizerte against pollution, launched in Tunisia in November 2016, when completed will help to improve the environmental and socio-economic conditions of more than 400,000 people.
The UfM also supports the implementation of regional agenda on Water, Environment and Blue Economy through initiatives such as the H2020 initiative for a Cleaner Mediterranean, with the objective of tackling 80% of pollution sources by 2020. Last year, the ministers of the UfM Member States agreed to develop a UfM Water Agenda to help Member States implement sustainable and integrated water management policies and contribute to a sustainable livelihood for the region's citizens.

More information
Read UfM-Revolve Report "Water around the Mediterranean"