Women's rights are human rights
Gender equality is at the core of European values, enshrined within the European Union's legal and political framework. Women's rights are human rights and human rights are women's rights. In the Mediterranean region, the Review of the European Neighbourhood Policy in 2015 has put a special focus on gender equality, in particular through women's economic empowerment and enhanced regional cooperation in partner countries in the field of the rule of law and good governance, working side by side with civil societies in the Southern Neighbourhood.
The Global strategy, adopted in June 2016, has established an even more joined up approach, between EU institutions and the EU's Member States, ensuring that human rights and gender issues are systematically mainstreamed across the EU's internal and external policies. With the adoption of the EU Gender Action Plan 2016- 2020, the EU has taken forward the promotion of gender equality in all its external actions, providing its partners with the support they need to work towards the protection and fulfilment and enjoyment of human rights by all women and girls. It was important to agree at the UfM Ministerial, where the Ministers of 43 countries were present, that when talking about gender equality in the Mediterranean region, it is important to reflect on the serious opportunities that such a dynamic would create for the countries which decide to put the respect of women's rights and women's empowerment among their main priorities. Open societies, where human rights and fundamental freedoms of all citizens, both men and women, are recognised and respected are more resilient and stable. Offering job opportunities, education opportunities and exchanges and open dialogue for women across the Mediterranean would prevent radicalisation and violence, further instability and sometimes conflicts. Empowerment of women represents one of the best options to build bridges and enhance cooperation.
It represents a powerful engine for peace, security and sustainable development as also stated in the UNSC Resolutions on Women, Peace and Security, and on Youth, Peace and Security. There is also growing evidence that closing the gender gap in the Middle East would dramatically spur economic growth. For women and girls to act as drivers for positivepolitical, economic and social changes, they need their participation in public life to be strengthened, equal access to information, equal civic and political rights as men, equal access to public services and social security, to good education and good jobs.
[ufm_quote]"We all need to reinforce our commitment to promoting gender equality in all the countries of the UfM. The situation is critical and important steps still need to be taken."[/ufm_quote]
We all need to reinforce our commitment to promoting gender equality in all the countries of the UfM. The situation is critical and important steps still need to be taken. Further, it is crucial for us to continue our efforts for the improvement of the collection of disaggregated data on cases of all forms of violence covered by the Istanbul Convention, in order to build a common methodology to compare data bases and analysis.
We should be putting more efforts into the adoption of a common framework to fight gender-based violence. We need to establish targeted measures to ensure that our countries on both sides of the Mediterranean adopt regulatory standards to prevent all forms of gender based violence, including rules assuring the protection of victims.
It is crucial to better promote the work that is realised in our communities. For instance, I take pride in the commitment and the awareness raising that is done in Bulgaria, thanks to the campaign on the prevention of violence against women "open your eyes, break the silence" that I had the honour to promote since 2015.
Indeed, the main idea of this campaign is that all actors need to be fully involved in order to attain real and concrete results: NGOs, police, judges, social workers, decision makers, men and women, etc. At each one of the conferences organised in different regions of Bulgaria, one representative of each "institution" was present. In every event there was one ambassador, a man that would make the difference and inspire other men to get on board in stopping gender-based violence.
All the actors would meet around the table and would reflect together on the best measures to be adopted. Never before, all these diverse actors were sitting 16 Union for the Mediterranean and discussing together. This is essential in order to obtain results. Close and continuous cooperation, inclusion of men, education, awareness-raising, are all ingredients that conducted Bulgaria to sign the Istanbul Convention in 8 months.
This kind of initiatives makes a real difference and we need to keep promoting them.
Moreover, strengthening regional cooperation on this common challenge is paramount. This UfM Ministerial is therefore of crucial importance, as the UfM's member states will take stock of the developments so far and assess concrete ways towards achieving gender equality and the eradication of all forms of gender based discrimination and violence. Each time a nation puts in place a new policy framework empowering women and tackling gender-based inequalities, it represents a substantial progress. However, it is when gender equality policies are fully implemented that they can be effectively translated into improvements in the day-to-day lives of women and girls, and thus generate such positive impact in our societies. This is an additional reason for working all together.
On 25th November each year, we mark the International Day for the Elimination of Violence against Women and each time we do so, we acknowledge a failure of our societies – and the European Union makes no exception. I stand by what the EU High Representative of the Union for Foreign Affairs and Security Policy Federica Mogherini said in her statement on November 2016: "violence against women is violence against the entire society: the entire society has to react, starting with men." There is an important responsibility for policy makers to raise awareness of their citizens, help tackle legal, institutional and socio-cultural obstacles that still impose limits on the achievement of equal rights and opportunities for women. The message we need to hammer home is that women are full and equal citizens and that gender equality is not simply a moral duty or a matter of social justice, it is the right thing to do if we want to leverage the full potential for socio-economic prosperity and achieve, equal, stable and secure societies for all our citizens.
Our action for women's empowerment worldwide has already produced important results. For instance, in ten years, more than 300,000 female students have been enrolled in secondary education thanks to programmes funded by the EU. In the Southern Neighbourhood region the total EU financial support to women-related or gender equality projects between 2010 and 2015 amounted to over €90 M, of which €10 M were implemented at regional level. This has allowed us, for example, to be the main donor with €7M to the UfM project for political and economic empowerment of women covering ten of our Southern partners and aiming at promoting access and effective participation of marginalised women in economic and public life by addressing the barriers that have impeded their engagement in these areas. The 2017 regional Action Programme includes a €3 million programme to support a campaign against gender-based violence and for the accession and ratification of the Istanbul convention by Southern Neighbourhood States.
On this particular problem, I am proud to remind the EU's commitment of 500 million Euros to a new Spotlight Initiative launched together with the United Nations and specifically focused on eliminating all forms of violence against women and girls. The name of the initiative is selfexplanatory. On the EU side, this is also meant to be a critical contribution to the achievement of the 2030 Agenda for Sustainable Development as violence against women and girls undermines our core fundamental rights and values, such as dignity, access to justice and gender equality and prevents the women from playing their full potential in the development of our societies.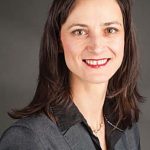 Mariya Gabriel, European Commissioner for Digital Economy and Society
Mariya Ivanova Gabriel is a Bulgarian politician and a member of the GERB party. She is the current European Commissioner for Digital Economy and Society. Previously, she was a Member of the European Parliament from 2009 to 2017. There, she served as Vice-President of the European People's Party (EPP) group, Vice-President of EPP Women and head of the Bulgarian EPP delegation. From 2012 until 2014 Mariya Gabriel was a coordinator of the EPP Group in the Women's Rights and Gender Equality Committee.
In this field her work was focused on the fight against all forms of violence against women, work-life balance, women's entrepreneurship and women's access to ICT sectors, equal pay for equal work, and women's role in peacekeeping. In 2016 she started a national campaign 'Violence against women: let's open eyes and break the silence'.