Coordinated action to improve road safety in the Mediterranean
Transport & Urban Development
Barcelona, 17 May 2016. The current road safety situation in the Mediterranean region constitutes a challenge with overwhelming health, social and economic impact. Indeed, in the 15 Southern Mediterranean, North African and Middle Eastern countries which are members of the Union for the Mediterranean (UfM), road accident  victims are very high,  with an economic cost estimated to be 3-5% of the GDP.
This issue is also of great concern to European Union Member States, and thus there is a need and scope for a truly shared Euro-Mediterranean common agenda to  address this issue.
As depicted by Habib Turki, Project Coordinator for Africa and Middle East of the International Road Transport Union, IRU, "road traffic is a key element of economic integration and growth, and thus good infrastructure and road safety have a direct impact on development, although we must remember that the overwhelming majority of traffic accidents can be attributed to the human factor, and thus public awareness, education and training are of critical importance."
The UN General Assembly proclaimed 2011-2020 the Decade of Action for Road Safety. The UN 2030 Agenda for Sustainable Development includes 2 targets on road safety: halve the number of global deaths and injuries by 2020 and provide access to safe, sustainable transport systems for all by 2030. The General Assembly adopted in April 2016 the Resolution "Improving global road safety", including the possibility of establishing a Road Safety Trust Fund to support these initiatives.
In light of these facts, and given the renewed international political momentum, participants agreed that it is time for urgent action through regionally concerted efforts of all involved stakeholders.  In the words of Olga Sehnalova, Member of the European Parliament: "My presence here shows the political support for this initiative. I look very positively to urgent action on road safety prevention in the Euro-Mediterranean region".
With these aims in mind, the first informal Expert Meeting on Road Safety in the Mediterranean region was held today at the UfM headquarters in Barcelona, as a forum to exchange experiences and good practices, analyse current efforts and actions, as well as explore ways to substantially improve road safety in the Mediterranean region.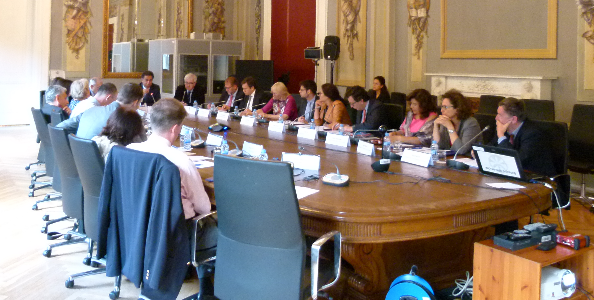 The main operational conclusion was that, as the European and Latin American experiences demonstrate, regional concerted action has proven very effective to prevent and substantially reduce road traffic accidents.
Maria Seguí, Spain's Director General for Road Traffic and Vice-President of the Ibero-American Road Safety Observatory, OISEVI, elaborated on the positive impact of this regional Observatory, created in 2008 in order to exchange reliable data and good practices and to coordinate regional initiatives:  "I am very happy to present the successful experience of the Ibero-American Road Safety Observatory and I believe it could inspire similar initiatives in the Euro-Mediterranean region."
Participants expressed their support for a regional approach to road safety prevention in the Mediterranean and agreed to explore the possibility of establishing a Regional Observatory on Road Safety in the Mediterranean, based on other successful regional experiences.
The meeting was chaired by Fathallah Sijilmassi, Secretary General of the Union for the Mediterranean and Jean Todt, Special Envoy of the UN Secretary General for Road Safety. UfM-labelled projects in the fields of transportation and infrastructure, such as the Trans-Maghreb Highway, include a road safety component.
Photo Gallery