Covid-19: What next for the Mediterranean?
By the UfM Secretary General, Nasser Kamel. 
Published by El País, La Libre, Público, Challenges, Euractiv, EuroEFE, L'Economiste Maghrebin, MAP, Al Chorouk, Al Masry Al Youm, Al Rai and Le Parisien
There can no longer be any doubt, COVID-19 has pushed us into a new era. We must ask, how the Mediterranean region, and the world, can come together to emerge from the global crisis stronger and more resilient. The outbreak of COVID-19 is certainly one of the greatest crises we face in over a century and serves as a stark and uncompromising reminder of the need for tangible cooperation across borders, between sectors and among citizens and their representatives.
Even levelled out across the world, the OECD estimates that for each month of confinement, there will be a loss of 2% in annual GDP growth and the economic impact alone is now expected to be worse than the 2008 recession. This reality, valid at a global scale, is nonetheless a more urgent one for the Mediterranean region, where conditions of fragility and exposure are further concentrated. Just like the domino effects of transmittable diseases, economic difficulties and climate change impacts know no boundaries. Indeed, the health and wealth threat multiplier represented by climate change is especially intense over the Mediterranean Basin, where warming is progressing 20% faster than the global average.
But, challenges of this complexity – global pandemics, climate change and the resultant economic exposure – cannot be picked off one by one and they cannot be tackled alone. Nor should we want to. There are clear links between them all, starting with the way they deepen existing inequalities by impacting vulnerable groups and economies unevenly and to a devastating effect. Communities unable to self-isolate due to poor housing will drive up infection rates. Pressure on public health systems will sap resources from the economy that could otherwise be invested in climate change mitigation. And so, the story goes on and this is why resilience must be built through a greater commitment to holistic approaches that protect and boost the environmental, social, and economic recovery all at once. It must be to recognise, as well, that our collective response when tackling global problems will determine how fast we recover and how well we handle these pressing challenges.
To achieve this, the Euro-Mediterranean region needs to build a development strategy based on the promotion of local, regional and circular economies which can be exploited as engines of a growth that is sustained and yet sustainable, fairly distributed yet still drives competition, and that has gender equality and young people at its heart. As we recover, we must leverage the opportunity to create new inclusive societies that ensure young people and women can fulfil their potential as agents of change and contributors to the region's economy as a whole.
New concepts, new business models including a drive to create a regional oriented supply chain and new public strategies to help realise the necessary shift in the paradigm already exist and do not need to be reinvented. Yet, these benefits are all based on greater cooperation and connectivity, which are the prerequisites of the change needed. Although, today, only 57% of EU citizens declare having basic digital skills, while little over 50% of households in the MENA region have access to internet, predictions already expected the digital transformation to record double-digit growth. COVID-19 has pushed the need for the digitalisation of the economy and services even higher up in the Euro-Mediterranean agenda. In the past weeks, it is these technologies that have brought hope for a better future with "global brains" able to join forces between different countries to collaborate on ideas.
And these ideas have been heard. Only through these shared values of equality, cooperation and dialogue combined, will we overcome the complex challenges we are confronted with. Concerted and integrated actions that tackle the root problems of crises and with a comprehensive understanding of their complexity is the vision the Union for the Mediterranean is putting forward, to take on the social, environmental and economic challenges that we all share in this common space at the meeting point of three continents.
That is the message that I want to convey, a message of hope and trust for all our citizens. The path to a better future belongs to us all, and we are determined to be bold in our pledges to deliver on a better tomorrow for the next generations to come.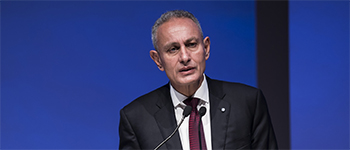 Nasser Kamel
Nasser Kamel is the Secretary General of the Union for the Mediterranean.