First Arab-Euro Conference on Higher Education: UfM presents the Euro-Mediterranean University of Fes project.
Higher Education & Research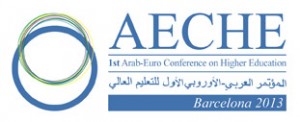 Barcelona, 1 June, 2013. The Secretariat of the Union for the Mediterranean (UfM) participated in the first Arab-Euro Conference on Higher Education (AECHE), held on 30th -31st May and 1st June in Barcelona. The UfM Secretariat presented the numerous projects it is currently working on, highlighting the creation of the Euro-Mediterranean University of Fes (EMUF), project endorsed by the 43 UfM member countries during the Senior Official Meeting held in Barcelona in June 2012.
The major objectives of Euro-Mediterranean University of Fes are fostering cooperation with other universities of the Euro-Mediterranean region and enhancing cultural dialogue among countries in order to increase student mobility, create co-graduation programs and offer internship opportunities.
Among the 300 participants attending the meeting organised by the University of Barcelona, the Association of Arab Universities (AARU) and the European University Association (EUA), were 100 rectors and members of numerous universities located in Europe as well as in the Mediterranean and the Gulf regions. Many representatives of Higher education organisations were also present at this significant event. The conference welcomed Xavier Prats Monné, Deputy Director General for Education and Culture of the European Commission, and Princess Sumaya bint El Hassan of Jordan, who directly addressed the audience with the purpose of calling for more cooperation in the sphere of Higher education, especially between institutions of the Arab World and Europe.
Through the exchange of ideas and experiences, the conference served as a discussion panel to foster a collective understanding around different issues such as a common degree recognition, and the internationalisation and modernisation of the current university system.