Mediterranean women entrepreneurs to discuss how innovation and technological change can boost women's businesses
The Union for the Mediterranean is hosting a webinar on 7 March with the theme "DigitALL: Innovation and technology for gender equality".
The webinar will explore the impact of the digital and technology gender gap on widening economic and social inequalities.
Leading female experts and entrepreneurs will join the discussion to share their success stories and to present real action towards equal opportunities in the Euro-Mediterranean region.
Barcelona, 2 March 2023. The Union for the Mediterranean (UfM) will be joining the celebrations for the International Women's Day, by hosting a webinar to raise awareness on the gendered impacts of innovation and technology. This online event will take place on 7 March at 11:00 – 13:00 CET to discuss concrete solutions and best practices to ensure that women and girls in the region have full access to innovation and technology.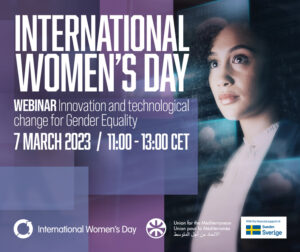 Women are a minority in the tech industry, from the general workforce up through management and leadership roles. A 2020 study by the 'Women Who Tech' organisation revealed that women make up only 28.8% of the tech workforce. Additionally, according to a recent survey by the United Nations Industrial Development Organization (UNIDO) in the MENA region, only one quarter of women entrepreneurs utilise digital technologies at some stage in the product design, manufacturing and selling processes of their businesses. While 65% of women entrepreneurs were willing and prepared to receive training on ICT devices and software, only 25% of them managed to receive it. The fourth Industrial Revolution (Industry 4.0) is driving the latest wave of industrial transformation through the convergence of physical and digital technologies. However, lack of access to finance and insufficient skills to enter the digital marketplace present growing hurdles for women entrepreneurs and women-led SMEs. More needs to be done to create mentoring and training- programmes that enhance women's digital and technological skills.
Representatives of international and regional organisations and networks such as the European Commission, UNIDO, the Euro-Mediterranean-Arab Association and Womenpreneur as well as successful women entrepreneurs working in the field of digital platforms, AI and Tech in the MENA region, will share best practices and discuss solutions on how to ensure that we leave no-one behind from the digital transformation. In addition, they will look at the future of work in the digital economy and the under-representation of women in key emerging technological sectors.
In Madrid last October, the 43 UfM Ministers committed to promote inclusive leadership models in early education, in all fields, including science, technology, engineering and mathematics (STEM). According to John Paul Grech, UfM Deputy Secretary General for Social and Civil Affairs, who will open the webinar on Tuesday: "It is important to understand how to create a gender-transformative innovation ecosystem and how to promote women's careers in science, technology, engineering and math, the so-called STEM. But it is also important to address women's concrete needs in an inclusive and accessible way, for practical cases such as digital and financial inclusion. I am sure that this webinar will allow us to debate different proposals on how to better integrate gender in digital and technology related policies and investments."
This event will also launch the upcoming UfM-UNIDO Women Business Forum 2023 on Women in Industry and Innovation, which will take place on 6-7 June 2023 in Tunisia.
Find out more about the AGENDA and SPEAKERS of the webinar "DigitALL: Innovation and technology for gender equality" and REGISTER to attend the online event
AGENDA, SPEAKERS AND REGISTRATION LINK