The Med agenda post-2020 to focus on climate, economic development, social inclusiveness, digital transformation and civil protection
25 february 2021 – UfM member states met on 25 February 2021 to review and discuss the follow-up of the celebration of the 25th anniversary of the Barcelona Process/5th UfM Regional Forum, held on 27 November 2020.
During the meeting, UfM Senior Officials welcomed the New Agenda for the Mediterranean adopted by the European Commission, and underlined the EU's renewed confidence in the UfM's indispensable role to enhance regional cooperation, and as a privileged dialogue forum for its 42 Member States.
"I am convinced that this renewed partnership with the Southern Mediterranean countries and its accompanying Economic and Investment Plan will help address the pressing challenges facing our region today", stressed UfM Secretary General Nasser Kamel.
The New Agenda coincides to a large extent with the five priority areas of action laid out by UfM member states at the 5th UfM Regional Forum. The UfM's work will focus in the coming years on the following areas: Environmental and climate action; Sustainable and inclusive economic and human development; Social inclusiveness and equality as an essential element in the socio-economic development of the region; Digital transformation; and Civil protection.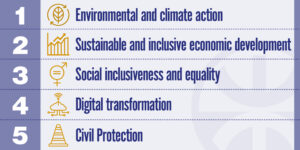 Furthermore, in addition to the actions that will be implemented in line with these five priorities, the Secretariat will continue to fulfill the mandate entrusted to it by the UfM Roadmap of 2017, notably in the areas of transport, urban development, tourism, and the root causes of migration.
Finally, UfM Member States discussed the recommendations of the Civil Society Forum, held on the margins on the 5th UfM Regional Forum, as well as the implementation of the first edition of the Day of the Mediterranean, launched by the Ministers of Foreign Affairs with a view to strengthening ties, promoting intercultural exchanges and embracing Euro-Mediterranean diversity.
Learn more on the Day of the Mediterranean here.