Overcoming governance challenges to the mobilisation of financing for the Mediterranean water sector
Water, Environment & Blue Economy
Context and objectives
Promoted jointly by the Organisation for Economic Cooperation and Development (OECD) and the Global Water Partnership- Mediterranean, and with an overall budget of €2 million, this project had five participating countries in its first phase: Lebanon, Tunisia, Jordan, Albania and Palestine, and the financial support of the  European Investment Bank (EIB).
The project aimed to identify and provide solutions to problems relating to the lack of sound governance frameworks in many Mediterranean countries for the mobilisation of financing in the water sector, including absorption capacity at both national and local levels. It built on earlier work jointly carried out by the GWP-Med and the OECD in Egypt, Lebanon and Tunisia.
The project focused on assessing the opportunities and institutional and regulatory challenges arising from public-private partnerships (PPPs) in water infrastructure, as a tool to assist policy makers in managing water resources and financing services in an effective, sustainable and affordable manner. Stemming from the assessment, it provided a diagnosis of the key governance and capacity-building bottlenecks that impede financing, and of the mechanisms to overcome them, in the form of a set of operational guidance and a compendium of good practices. These key analyses and common denominators can then lead to the endorsement of and pilot cases demonstrating the mechanisms considered most suitable to the country context, through country policy dialogues and using participatory approaches.
Location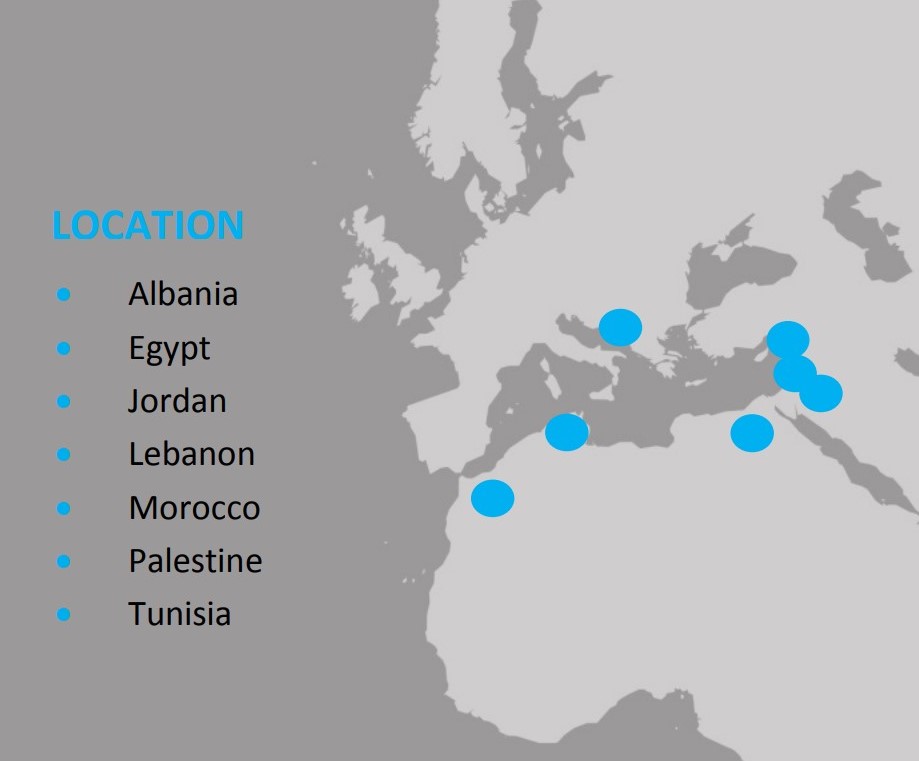 Promoter
The Global Water Partnership – Mediterranean (GWP-Med) is a regional partnership of the Global Water Partnership (GWP). It is a platform bringing together organisations working regularly on water issues in the Mediterranean region. It aims at promoting knowledge on Integrated Water Resource Management (IWRM) through the exchange of experiences, dialogue, and capacity-building.
The Organisation for Economic Cooperation and Development (OECD) is an intergovernmental organization promoting policies that will improve the economic and social well-being of people around the world. The OECD provides a forum in which governments can work together to share experiences and seek solutions to common problems.
Key partners
Different levels of government and public authorities
Private partners and utilities
Government and public authorities responsible for preparing, regulating and monitoring Public and Private Partnership (PPP) projects and related activities.
Water users, by helping them to make their requests and concerns better heard.
Private partners and water utilities, by clarifying respective responsibilities and supporting the management of expectations.
Key actions
The Project is designed around two distinct but closely interlinked components:
A set of country reviews, developed through national consultations
Regional dialogues to share experiences and promote the diffusion and replication of successful practices
Results
Identification of mechanisms to overcome key bottlenecks (strengthening authorities and public sector, institution cooperation, incentivize effective user's participation).
Endorsement/application of the mechanisms considered most suitable to the country context.
Exchange of good practices and sharing of experiences.
Identification of common denominators, as well as replicable experiences and practices.

Development of a set of guidelines tailored to the region.