Maharat MED – Developing Youth Employability & Entrepreneurial Skills
Economic Development and Employment
Context and objectives
The Maharat MED project aimed to develop an entrepreneurial spirit in young people, transforming job seekers into job creators who are able to increase employment opportunities.
Developed by the Business Development Centre (BDC) in Jordan and in line with the UfM's flagship Mediterranean Initiative for Jobs (Med4Jobs), the Maharat MED project encouraged employability projects in Jordan, Palestine, Egypt and Morocco.
Initially, the Maharat MED project was created to address a major challenge facing Jordanian youth: unemployment. To address this challenge, Maharat MED bridged the gap between the output of education systems and labour-market requirements. Given the internationally recognised success of the programme in Jordan, the BDC garnered the support of the Med4Jobs Initiative and was able to work with other Mediterranean countries facing the same challenges, where they were able to replicate the Maharat MED project.
The project tackled the problem of unemployment from the point of view of both demand and supply – it trained students to be ready for future work and it helped them to start their own businesses. The project was built around four pillars: employment (building knowledge and practical skills), entrepreneurship, education (implementing Maharat in vocational schools, community colleges and universities), and engaging Maharat beneficiaries in social work and community service activities. The private sector was involved in the whole process, particularly in the training activities. Furthermore, the regional scope of the project encouraged the exchange of good practices and expertise across the countries.
Location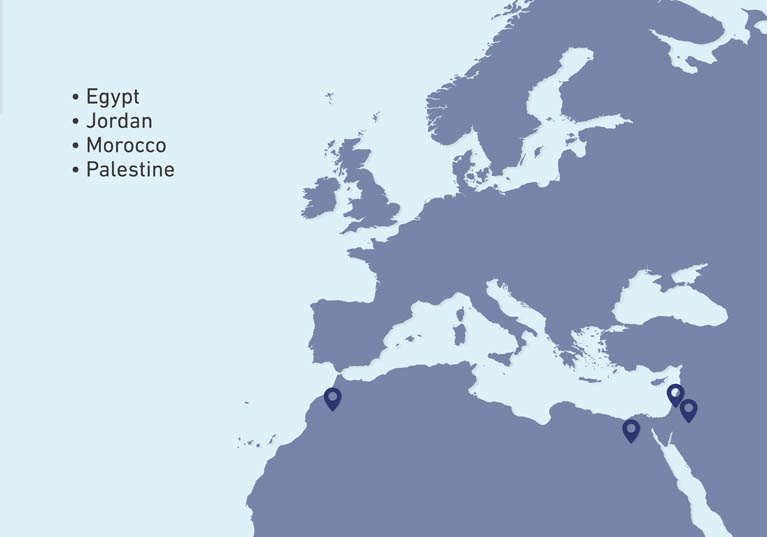 Promoter
This project was promoted by the Business Development Centre (BDC). This is a non-profit organisation committed to fostering economic development and public reform in Jordan and the Middle East. BDC projects and initiatives are designed to stimulate job creation and accelerate regional economic progress by providing business development services for small and medium-sized enterprises (SMEs), cultivating the employability and entrepreneurship of young people, women and professionals, expanding public-private partnerships, and delivering career and entrepreneurial training.
9,420 students across the four countries, who took part in the Maharat project over three years.
360 professional trainers involved in the Training of Trainers (ToT) programme.
Key actions
Employment:
Training to build knowledge and practical skills.
Entrepreneurship:
Training in entrepreneurial behaviour.
Education:
Implementing the Maharat model in vocational schools, community colleges and universities.
Engagement:
Engaging Maharat beneficiaries in social work and community service.
It also developed and implemented a structured package to transfer the Maharat youth employability programme to three additional countries in the region.
Results
Expansion of regional employability outreach services.
Easier access for young people in selected countries to market-driven training programmes.
Development of employability skills among university and college students.
Change in behaviour and attitudes through the acquisition of skills oriented to labour market needs.
Sustained upscaling efforts through trained service provider platforms.