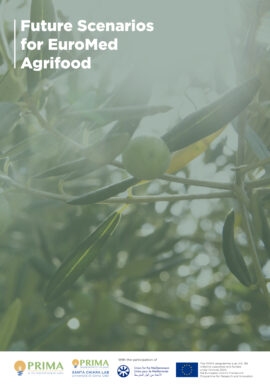 Future Scenarios for EuroMed Agrifood
Humanity is facing what could be described as the biggest global crisis of the generation. The United Nations published a report on March 2020 identifying the main socio economic impacts provoked worldwide by the COVID-19 with reference to the 17 Sustainable Development Goals (SDGs) of the Agenda 2030. In addition to the devastating effects on public health (SDG 3), the main problems emerged concern inter alia the loss of income leading vulnerable segments of society to fall below poverty line (SDG 1), the risk of collapse of essential services including food production and distribution (SDG 2) and clean water supply (SDG 6). It is clear from these observations that it is necessary to promote transitions to a new developmental model inspired by the SDGs. Many of these challenges have even greater relevance in the Mediterranean region, which is a hot spot for Climate Change, as authoritatively reported in the UFM.
This report is edited by the Italian Secretariat of PRIMA, with the contribution of the PRIMA Foundation, the Union for the Mediterranean, the European Commission, the Food Agriculture Organisation, FACCE JPI, EIT Food, Ain Shams University, the World Farmers Organisation, Future Food Institute, Parliamentary Assembly of the Mediterranean, SDSN Mediterranean.
October 2020
…Other publications you may like