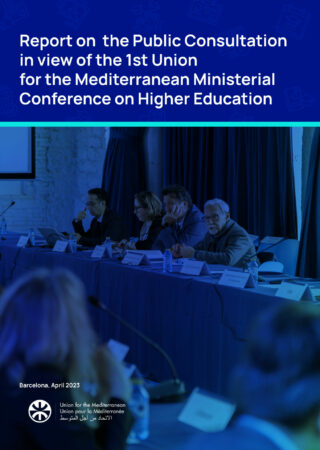 Report on the Public Consultation in view of the 1st Union for the Mediterranean Ministerial Conference on Higher Education
The UfM Public Consultation on Higher Education targeted the main Higher Education institutions and networks that interact in the Euro-Mediterranean area. It focused on the achievements and challenges of the past 15 years and was aimed at identifying concrete proposals for the future. The conclusions of this exercise, which you find in the present report, intend to inspire the ministers in charge of Higher Education defining new priorities of cooperation for the region at the UfM Ministerial Conference, which will be held in the last quarter of 2023 in Fez, Morocco. The contribution of all the stakeholders involved in this process, summed up in the present report, aims at feeding into the Ministerial Declaration to be adopted then, thus assuring that the expectations and necessities of Higher Education Institutions are taken in consideration.
The stakeholder's involvement in the preparation of the Ministerial Conference is not over: after the Consultation, a regional dialogue meeting was held in Casa Mediterráneo, Alicante, in March, whose results have been incorporated in the present report. This will be a permanent exercise to be conducted until the Fez Ministerial Conference and the Stakeholders' Policy Conference that will be held back-to-back with the conference.
At the UfM, we are convinced that regional cooperation on higher education and research plays an essential role in achieving an inclusive and sustainable development in the Mediterranean, especially for our younger generations, as it contributes to increase employability and promote intercultural dialogue. We foster regional dialogue on higher education with the purpose of facilitating continuous peer learning among our member countries on policies and practices addressing common challenges.
In the context of a global trend towards a new generation of universities, an ambitious higher education initiative covering the whole UfM region is necessary. This new impulse should capitalise on the existing regional networks and collaborations and ensure a transformative impact on the higher education systems and institutions. The positive results of a programme such as Erasmus+ call for a stronger internationalisation of Euro-Mediterranean higher education systems, a process which should not be a goal in itself, but a means to enhance the quality of education and research.
The 2023 Fez Declaration will take stock of the many developments since the 2007 Cairo Declaration and make them visible, but it will also lay the bases of our future partnerships, in light of all the developments that are currently changing the higher education landscape. This Declaration, supported by the 43 UfM Member States, will undoubtedly establish clear priorities for enhanced cooperation in the Euro-Mediterranean area. The present report is an important milestone and will certainly help defining clear roadmaps for action.
May 2023
…Other publications you may like