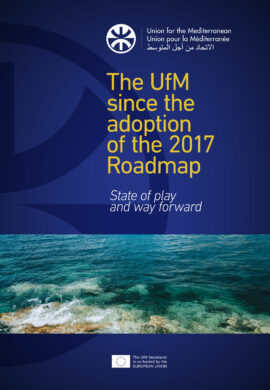 The UfM since the adoption of the 2017 Roadmap – State of play and way forward
The adoption of the Union for the Mediterranean Roadmap by Foreign Ministers in January 2017 marked a turning point for the institution, both at political and operational levels. The Roadmap gave the UfM a new impetus and allowed its Secretariat to define, under the guidance and support of the Co-Presidency, a 2018-2020 strategic vision to implement an enhanced cooperation framework in the Euro-Mediterranean region that contributes to achieving inclusive and sustainable development, in line with the UN 2030 Agenda.
At the Fifth UfM Regional Forum, held on 27 November 2020 in Barcelona, and which coincided with the 25th anniversary of the Barcelona Process, Foreign Ministers reaffirmed that the 2017 Roadmap for Action remains the comprehensive strategic framework for the work of the UfM and recognised the need to prioritise, in the years to come, five areas of action where the UfM can play a crucial role and provide for comparative advantages towards a sustainable post-pandemic recovery, paving the way for the creation of more resilient societies and economies in the region.
The present document and the following sections provide, as requested by the Co-Presidency during the SOM meeting held in Barcelona on the 21st of October 2021, an update on the state of play of the UfM Roadmap implementation, highlighting particularly the milestones achieved in the five priority areas agreed by the Ministers in 2020.
January 2022
…Other publications you may like