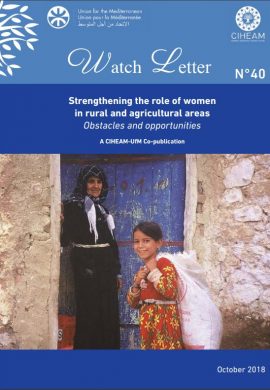 Watch Letter: Strengthening the role of women in rural and agricultural areas
Globally, women make up 40% of the agricultural labor force, both formal and informal, in unpaid and paid work in fields and on farms. Yet, women are also the largest unpaid care workforce, women are less likely to own land – with only 13% of agricultural landowners globally being women1 – and more likely to work on family owned land for free, without access to markets or new technologies. Women spend much of their time on work inside the home, contributing to and running households, with no recognition of this work, and no wages to call their own. While they often are best placed to accurately identify the immediate needs of their families, in many communities, they are not making decisions on how the household income is spent.
As noted in the Secretary General's report on Rural Women, "rural women and girls are disproportionately affected by poverty, exclusion and the effects of environmental and climate change"2. Thus, women and girls living in rural areas are less likely to absorb shocks, recover from crisis, and be able to create a sustainable future for themselves and their families.
In light of the 2030 agenda, and under the notion of leaving no one behind, we have an obligation to focus on women in rural areas, who, unless they are empowered to become resilient to external (and internal) shocks, will continue to bear the brunt of climate change and inequalities that will hinder our collective prosperity and development.
That is exactly what the Commission on the Status of Women (CSW) had as a priority theme in March 2018, when member states, civil society and UN entities gathered to focus on Challenges and 1 UN Women infographic http://www.unwomen.org/en/digital-library/multimedia/2018/2/infographic-rural-women 2 Challenges and opportunities in achieving gender equality and the empowerment of rural women and girls: Report of the Secretary General, 2018 http://undocs.org/E/CN.6/2018/3 3 http://www.unwomen.org/en/csw/csw62-2018 Leaving No One Behind: Women in Rural Communities Are Key to a Sustainable, Food Secure Future opportunities in achieving gender equality and the empowerment of rural women and girls in the commission´s 62nd session.
Just as in the Secretary General´s report, the Commission, in the agreed conclusions adopted on the last day, noted that the foundations for a sustainable, gender equal, Agenda 2030 are already present, in the Beijing platform for action, CEDAW and other internationally ratified conventions and protocols. The Commission highlighted recommendations for ensuring that Agenda 2030 can be achieved and that women and girls living in rural areas have the rights and tools needed to be part of the solution; for there can be no solution without them. Notably, the Commission outlined three broad areas of action, with specific guidance under each, and in adapting the document made a commitment to the recommendations made.
Authors: Smail Izerrouken & Houria Belouahri; Mohammad Naciri, Regional Director, Regional Director for Arab States, UN Women; Athar Hodali for the Agricultural Development Association – PARC; Szilvia Lehel, Gender, Environment and Development Specialist, Food and Agriculture Organization of the United Nations (FAO); Petya Stavreva, President, United Agrarians, Sofia, Bulgaria, Former Member of the European Parliament; Monia Braham, International Expert in Sustainable Development Policies; Catia Zumpano, chercheur (Sociologue rurale), présidente du Centre de politiques et bioeconomie du CREA (Consiglio per la ricerca in agricoltura e l'analisi dell'economia agraria); Elisabeth Hofmann et Jean Etienne Bidou, Chaire UNESCO sur la formation de professionnel/-les du développement durable; Rosanna Quagliariello, Head of External Relations Office, CIHEAM Bari; François Fatoux, Fondateur de « Crèches durables », expert RSE, Égalité Femmes Hommes; Gaëlle Ferrand et Alejandra Meneses, OECD; HadiFathi Khalil10 and Husam Al Najar11, Islamic University of Gaza; Joachim Benet- GRESCO –Université de Poitiers; BEN EL AHMAR Mustapha, Directeur du CERCAM, Groupe Crédit Agricole du Maroc (GCAM); Nora Bouazzouni, Journaliste; Rosa Llobregat, Policy Advisor at the European Parliament; Elham Abdelaal, Associate Professor, Socioeconomic Dept. Desert Research Center, Cairo, Egypt; Marcela Villarreal, FAO
October 2018
…Other publications you may like