Third UfM High-level Conference: Women for the Mediterranean, driving force for stability and development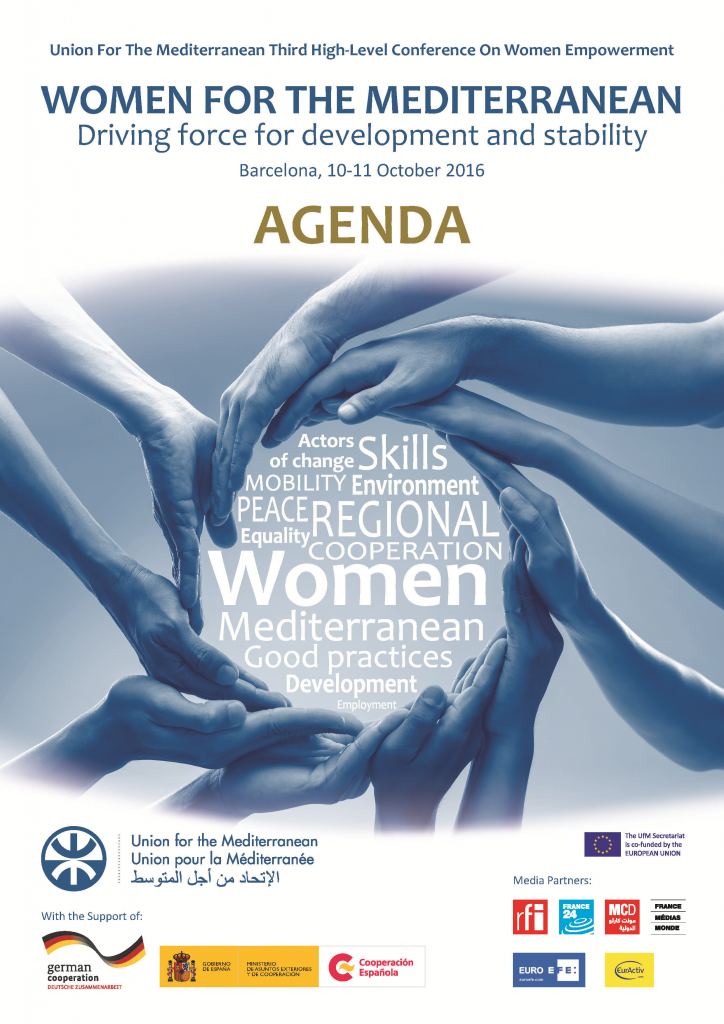 About the conference
The UfM Secretariat organizes the "Third UfM High-level Conference: Women for the Mediterranean, driving force for stability and development" on 10-11 October 2016 in Barcelona.
Following the 2014 and 2015 editions and in the perspective of the Fourth UfM Ministerial Conference on Strengthening the Role of Women in Society which will take place in 2017, the Conference will gather main stakeholders fostering women's empowerment around the Mediterranean to share ideas, experiences, initiatives and recommendations regarding the essential role that women play in promoting peace, development and stability.
This year again, discussions will focus on current and critical issues in the Mediterranean region where women have an essential role to play including:
Women as drivers for sustainable development and inclusive growth
Women as key actors against extremism and radicalization
Women, mobility and migration
Over 250 representatives from key stakeholders involved in women socio-economic empowerment issues will attend the UfM Conference, including some of the most relevant women empowerment experts from national institutions of the UfM member states, international development agencies, private sector and civil society organisations. The event will also promote B2B and networking meetings in order to set projects and innovative cooperation initiatives.
The objectives
The Conference seeks to achieve several objectives:
Think about women as actors of change and solutions to the regional challenges.
Examine how to strengthen their positive contribution to development and stability.
Highlight women's role in enhancing sustainable development and inclusive growth, in promoting tolerance and mutual understanding and address the issue of women and migrations.
Get inspired from testimonies and concrete experiences.
Formulate recommendations in terms of policy decisions, exchange of experiences and good practices from the field and identify regional projects and initiatives.
Explore how strengthening regional cooperation contributes to improving women's situation and living conditions.
Media are invited to attend all the conference sessions.
During the conference, interviews with the key speakers will be possible. For this purpose, media should contact the UfM Secretariat before Monday, 3 October at 15h.
Registration
Journalists and media technical staff planning to cover the conference must be accredited. The request must include:
Name and surname
Number of Identity Card
Media
Position
Email
Mobile phone number
Number plate of the vehicle (vehicles entrance limited to mobile units)
Please submit by e-mail your accreditation request to: media@ufmsecretariat.org
Deadline for registration and media interviews bookings: Monday, 3 October at 15h.
Contact UfM Secretariat
For more information about the conference, please contact:
media@ufmsecretariat.org
+34 935 214 169