UfM launches a regional Hub on Jobs, Trade and Investment to support innovative employment-promoting initiatives in the region
Economic Development and Employment
With a budget of €11 million, the UfM Hub for Jobs, Trade and Investment will contribute to employment promotion, the integration of Southern Mediterranean countries into regional value chains in goods and services, as well as to trade facilitation and sustainable investments in the region.
Every third young person in the Southern Mediterranean is unemployed, while only every fifth woman in MENA countries participates in the labour market.
Marrakech, 18 May 2022. On occasion of the 5th UfM Ministerial on Employment and Labour in Marrakech, the UfM Secretariat signed today a Joint Declaration of Intent with the German Federal Ministry for Economic Development and Cooperation (BMZ) and the Spanish Ministry of Foreign Affairs, the European Union and Cooperation (MAEC) that will significantly increase the support of Germany and Spain to the UfM and its Secretariat. This support entails the creation of a "UfM Hub for Jobs, Trade and Investment", run by the German and Spanish Development Cooperation.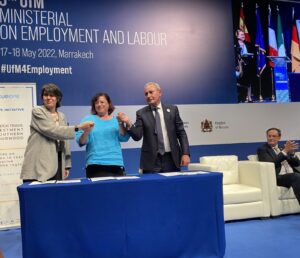 Despite the strong ties and dependencies between the Mediterranean neighbours, economic development in the region remains highly fragmented. With a budget of €11 million, the Hub for Jobs, Trade and Investment will reinforce the UfM's dialogue platforms in the areas of employment and regional economic integration, provide targeted assistance to individual UfM Member States and contribute to promoting South-South trade and sustainable investments in North Africa.
UfM Secretary-General, Nasser Kamel said: "The UfM is based on the commitment and the engagement of its Members States. We therefore highly welcome the support of Germany and Spain, which will boost the UfM's role and impact in the Mediterranean region. The creation of jobs as well as the promotion of trade and investment remain absolute priorities for the region, even more so after the devastating effects that the COVID19-pandemic has had on the labour markets and supply chains in our region."
Within this framework, the UfM will set up more editions of the region-wide Grant Scheme on Employment Promotion, with a focus on young people and women. Launched in August 2020, the first edition of the UfM Grant Scheme, aiming to improve the employment situation of the most vulnerable population, financed four region-wide projects benefitting 18,000 individuals in 7 UfM Member States, namely, Greece, Italy, Jordan, Lebanon, Malta, Morocco and Tunisia. These projects tackled the labour challenges in the fields of entrepreneurship, women empowerment, sustainable tourism, as well as education and research with an overall budget of €1.13 million.
More information