New UfM Report: The Internationalisation of Higher Education in the Mediterranean
Higher Education & Research
22 Juny 2021. Regional cooperation efforts in the fields of higher education, research and innovation play an essential role in achieving a positive agenda for the youth in the Mediterranean because of their potential on increasing employability and promoting intercultural dialogue. With this in mind, the Union for the Mediterranean (UfM) launched a regional dialogue process on the internationalisation of higher education in the Mediterranean region, in which internationalisation is not understood as a goal by itself, but a process aimed at enhancing the quality and standards of education and research. This dialogue intends to facilitate continuous peer learning among the UfM countries on policies and practices addressing common challenges and priorities, and to foster joint projects and initiatives.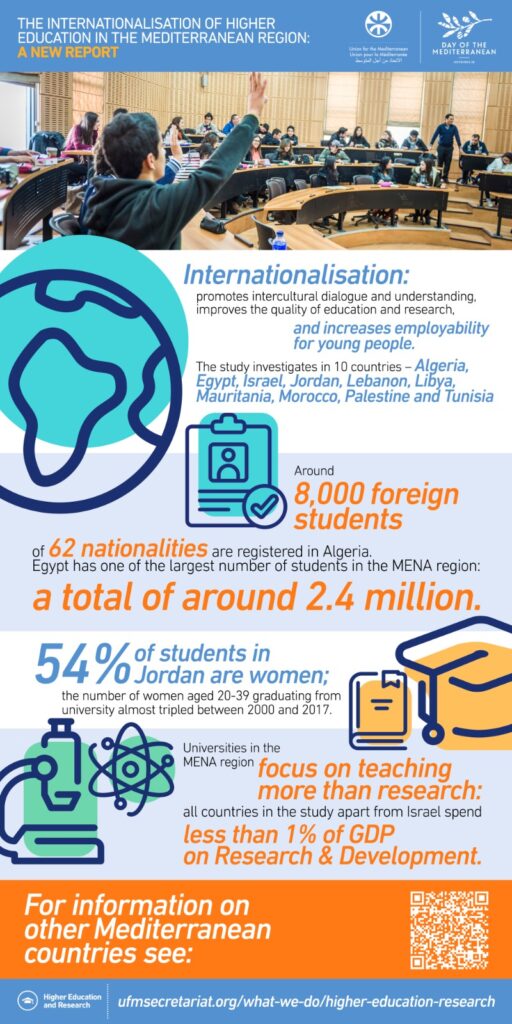 At the Higher Education Regional Dialogue meeting in Cairo, 2019, the need was stressed to consolidate comprehensive data on the internationalisation of higher education across the UfM region. It also underlined that in the context of a world-wide trend towards a new generation of universities, a change of scale in the support mechanisms and an ambitious higher education initiative embracing the whole UfM region is necessary, and a new impulse that should capitalize on the existing regional networks and ensure a transformative impact on the higher education systems and institutions.
In an intent to address regional needs and pave the way for a change of scale in the support mechanisms, the UfM launched a study, conducted by the Mediterranean Universities Union (UNIMED), aimed at being an effective tool for policymakers and other stakeholders. The study investigates the internationalisation of higher education in 10 countries – Algeria, Egypt, Israel, Jordan, Lebanon, Libya, Mauritania, Morocco, Palestine and Tunisia – focusing especially on resources and opportunities available at the national and regional levels.
Using quantitative data as well as surveys, interviews, focus groups and desk research, the study offers for each target country a SWOT (strengths, weaknesses, opportunities and threats) analysis, along with specific recommendations and a theme-based roadmap. The overarching conclusions were:
In most cases, internationalisation is identified simply as mobility, while a more comprehensive internationalisation strategy would be highly beneficial for institutions and staff, and may increase attractiveness and participation.
Obstacles to effective internationalisation include high fragmentation in the procedures and systems of credit recognition and assessment of qualifications, and difficulties obtaining visas for international mobility, especially for MENA countries to access Europe.
A series of recommendations emerge from the study, both at national and regional level. They were formulated taking in consideration the most relevant existing best practices and initiatives that can be replicated and upscaled in the region. They point out proposals regarding information-sharing mechanisms, the improvement of present
regional initiatives and programmes, synergies and complementarities between existing mobility schemes and programmes, and appropriate capacity-development mechanisms for Higher Education Institutions.
The report was presented in an online event on 22 June, which introduced the results of the study and at the kick off the preparation of a renewed policy agenda for the region. As the Secretary General of the UfM, Nasser Kamel, states in the Foreword of the report: "Only by investing in our future, in our youth, will we be able, as internationalisation practitioners, to guarantee a framework of sustainability and prosperity in the Mediterranean."
15 main facts and findings
1. Around 8,000 foreign students of 62 nationalities are registered in Algeria
2. Egypt has one of the largest number of enrolled students in the MENA region, with a total of around 2.4 million.
3. Israel's Higher Education budget was €2.6 billion in 2016, to be increased to €3 billion in 2022.
4. 54% of students in Jordan are women; the number of women aged 20-39 graduating from university almost tripled from 2000 to 2017.
5. Most student mobility from Lebanon is directed towards France, Italy, Belgium, Germany and the UK.
6. The number of Syrian students in Jordan quadrupled between 2011 and 2016 as a result of the refugee crisis, putting pressure on higher education institutions.
7. Morocco has hosted around 20,000 students from Sub-Saharan Africa. 70% of foreign students come from Africa, 21% from the Middle East, and 3% from Europe.
8. 16 universities in Palestine have joint agreements for partnerships and cooperation with universities in the Arab world, Europe, USA, Australia, China, Japan, Canada, and other countries in the region.
9. Between 2015 and 2019, Tunisia was involved in 6,048 mobilities (Erasmus+ ICM), mainly carried out by the Universities of Carthage, Sfax and Tunis El Manar.
10. In a year's average before the pandemic, over 220,000 students moving around the world came from MENA countries, which in turn hosted over 134,000 international students.
11. Algeria, Mauritania, Morocco and Tunisia have a net outflow of student mobility, while Egypt, Lebanon and Jordan have a net inflow (particularly from the rest of Asia and some African countries).
12. South and East Mediterranean Countries have been increasingly sending and receiving students to and from the MENA region, but also Malaysia, Saudi Arabia, India and China. Malaysia is one of the most active actors in the Mediterranean area, constantly boosting its cooperation with Arabic countries and higher education institutions.
13. Academic mobility is overwhelmingly from South to North in the region; low attractiveness of local higher education systems, including quality and diversity of research, prevents Southern Mediterranean countries from achieving reciprocal mobility.
14. The Erasmus+ programme of the EU is generating the largest impact on the internationalisation strategies of higher education institutions. While, in the South-Eastern Mediterranean region, there is a focus on national activities and bilateral cooperation, rather than on a regional approach.
15. Universities in the MENA region perceive themselves as more teaching-oriented than research-oriented, and the research sector suffers from low budget allocation: all countries in the study spend less than 1% of GDP on Research & Development.