Developing Women's Empowerment
Context and objectives
The goal of this project was to enhance the role of women in Euro-Mediterranean societies in an effort to contribute to the long-term sustainable development of the region.
Developing Women's Empowerment had a strategic, long-term approach to fostering gender equality in the region. The project's holistic approach involved the academic and scientific community in the development of various innovative tools: an online gender institute, a shared laboratory of best practices, and an academic and scientific network. The project was based on 3 interconnected pillars:
The development of a knowledge base. Different research studies and articles on gender equality and women's issues were made available to the general public and served as a unique Euro-Mediterranean information pool on the subject.
The establishment of a network of networks. The network of networks, supported by an interactive internet platform in three languages (French, English and Arabic), provided NGOs, academic institutions, researchers, ministries, local authorities and businesses active in the field of female empowerment and gender equality with new opportunities for networking and experience-sharing.
The implementation of concrete projects. Specific projects provided disadvantaged women with effective support for their active participation in the economic, political, social and cultural life of the region. The projects were then constantly enriched via a shared laboratory of best practices. The laboratory was an essential element for assessing the projects' progress and their long-term sustainability.
Location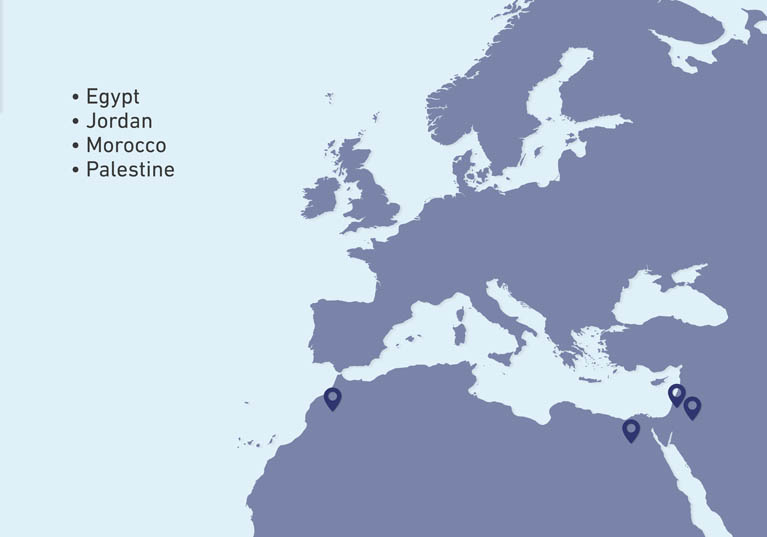 Financial contribution
€1.3M – Government of France
Women and girls from the countries involved, NGOs active in the field of female empowerment and gender equality, governments, local authorities and scientific communities.
Key actions
Creating an online platform in French, English and Arabic in order to link the project's actions and disseminate its results and recommendations.
Publishing and exchanging relevant information related to women and gender issues (national legislation, research documentation and academic studies on women's issues).
Creating a network of associations and organisations involved in gender equality. Each network of ministries, local authorities, non-governmental organisations and researchers were able to share experiences on the online platform.
Delivering and facilitating concrete projects in the countries involved.
Results
The creation of networks of major stakeholders in the field of gender equality and female empowerment led to enhanced knowledge in the field and facilitated the implementation of projects in the countries involved.
The project's most pragmatic element was the reinforcement of women's roles in the areas of arts and crafts, rural development and agriculture, entrepreneurship and the social economy, and tourism, as well as women's participation in trade unions and the prevention of violence against women and girls.