High Opportunity for Mediterranean Executive Recruitment (HOMERe)
Higher Education & Research
Context and objectives
The High Opportunity for Mediterranean Executive Recruitment (HOMERe) project is predominantly aimed at high-achieving students in their last year of study before graduation, with the objective of easing their transition from an academic environment to a graduate position in their own country.
In the Middle East and North Africa (MENA) region, counter-intuitively, youth unemployment often increases as the level of education increases – that is, highly qualified graduates struggle to find work. Despite their solid academic backgrounds, graduates often do not have the soft skills that potential employers are looking for, such as teamwork, problem-solving and leadership. According to World Bank data, 40% of employers in the formal private sector in the MENA region point to the skills gap as a major hindrance to business operations and stable growth.
HOMERe uses mobility internships as a tool to combat this skills gap.  Through its network of academic institutions, the project aims to attract transnational private companies in the Mediterranean region that are searching for brilliant employees. The programme provides help in the identification, preparation and mentoring of appropriately qualified students, while the host companies commit to allocating a tutor to their interns and to pay them a monthly allowance. The internships last on average for 6 months.
Location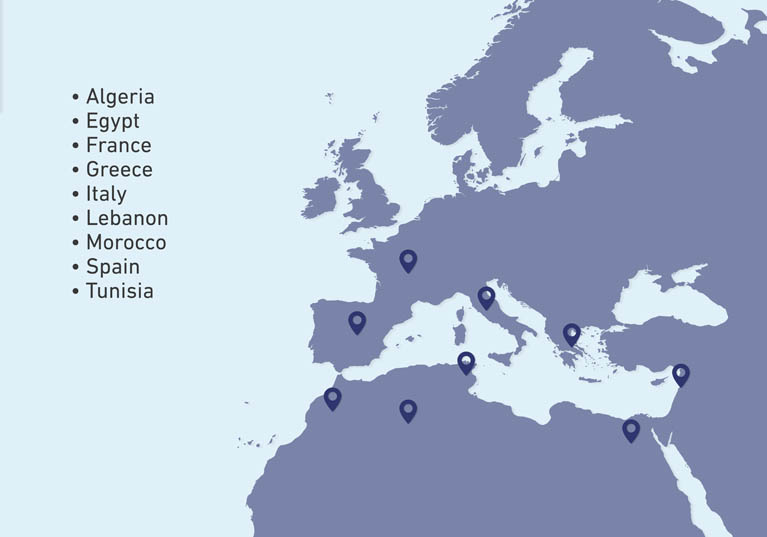 Financial contribution (per phase)
€1.5 million – Hosting companies (allocation of a monthly allowance to the intern)
Promoter
The first phase of HOMERe (2015-20107) was promoted by the Mediterranean Network of Engineering and Management Schools (Réseau Méditerranéen des Ecoles d'Ingénieurs, RMEI), a network of 95 universities delivering Master's degrees in 16 Mediterranean countries.
The second phase of the project (2019-2020) was promoted by HOMERe France within the framework of the Mediterranean Initiative for Jobs (Med4Jobs).
Key partners
World Association for Hospitality and Tourism Education and Training
The project benefits students (47% female) taking part in international internships in the Mediterranean region (South-to-North, South-to-South, and North-to-South).
Businesses operating (through subsidiaries, import/export, etc.) in UfM countries or with development prospects therein also benefit. These include: Alcatel Lucent Entreprise (France), Capgemini (France), Cegedim (France), CGI (Canada), NCA Rouiba (Algeria), Orange (France), Société des Eaux de Marseille (France), and several Small- and Medium-Sized Enterprises (SMEs).
Key actions
The gathering and dissemination of internship opportunities that meet the following quality criteria:
They offer well-structured assignments of a duration of up to six months
They target international student profiles from the Mediterranean region
They provide continuous guidance from an internship advisor
They pay a monthly allowance
Pre-selection of appropriate student profiles, with the final selection being left to the employer.
Logistical support and facilitation of legal formalities in close connection with national authorities.
Final assessment of the intern through an oral examination in his or her original country of study.
Delivery of a HOMERe internship certificate upon successful completion of the internship.
Expected results
Creation of a pilot intra-Mediterranean internship mobility programme.
Development of a matchmaking platform for companies to source young talent from the Mediterranean region to become their interns.
Strengthened links between businesses and universities.
Development of national HOMERe legal structures in each country of implementation.
Up to 70% of beneficiaries in employment in their country of origin after the end of the internship.
A regional network of international skilled alumni with a Mediterranean focus.