Second Economic Forum of the Western Mediterranean: Towards a strengthened regional economic integration
Economic Development and Employment
Barcelona, 21 May, 2014. The Second Economic Business Forum of the Western Mediterranean (Dialogue 5+5) took place today in Lisbon. The event brought together more than 400 participants from the ten 5+5 Dialogue countries. Gathering Western Mediterranean business leaders and high-level representatives from major enterprises and employers' associations, the forum aimed to promote dialogue and strengthen economic cooperation between the countries of the region.
The central theme of the event was Sustainable Development and it was structured around four strategic pillars: water, environment, infrastructure and financing. The forum provided a space for reflection and discussion about the economic challenges of each country and the opportunities of cooperation in joint projects or initiatives.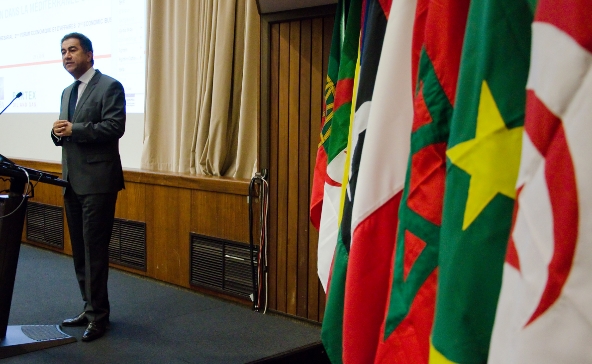 Addressing the audience during the opening session, UfM Secretary General Fathallah Sijilmassi affirmed: "The UfM stands today as an operational platform to promote regional integration by fostering coordination efforts and drawing on the synergies with and between governments, institutions and stakeholders of the region. In this respect, the 5+5 Dialogue represents an enhanced cooperation scheme whose actions naturally respond to a global Mediterranean objective." He underlined the importance of the launch of the 5+5 Business Council under the framework of the agreement signed between the ten employers' associations during the Forum of Barcelona.
The event was co-organised by Portugal and Mauritania, as co-presidencies of the 5+5 Dialogue, the Secretariat of the Union for the Mediterranean, the Portuguese Trade and Investment Agency – AICEP and Fundação AIP. The first edition of the Economic Forum of the Western Mediterranean took place last October 2013, at the headquarters of the Union for the Mediterranean, in Barcelona. "Regional and subregional cooperation is a necessary condition to offer a sustainable and consistent answer to the economic challenges we have to face. Today, after seven months of the first edition of the Forum, we find ourselves here in Lisbon to consolidate this process and to offer a comprehensive and coordinated regional response", underlined the Secretary General.
MORE INFORMATION
Speech by Fathallah Sijilmassi, Secretary General of the Union for the Mediterranean